Photo by Rush Creek Lodge and Spa
Less than a mile away from the entrance into Yosemite National Park on the long windy road that takes travelers up the mountain, sits Rush Creek Lodge & Spa, a luxurious and approachable resort destination inspired by the natural beauty and power of Yosemite National Park. Best known for its waterfalls and challenging rock climbing that has attracted some of the most accomplished climbers, Yosemite is about 1,200 square miles large and filled with deep valleys, grand meadows, ancient giant sequoias, a vast wilderness area, rivers, hikes, and so much natural beauty.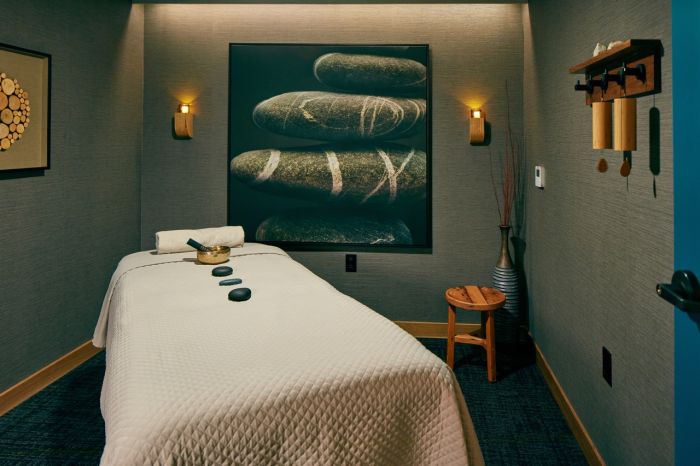 Photo by Rush Creek Lodge and Spa
The spa's amenities are themed around a multi-sensory exploration of the Park, integrating a signature combination of stone, sound, scent and warmth. Unique features include a one-of-a-kind indoor Warm Waterfall Cove designed to offer refreshment and renewal by lowering one's blood pressure and improving physical and mental health, a result of nature's therapeutic effects.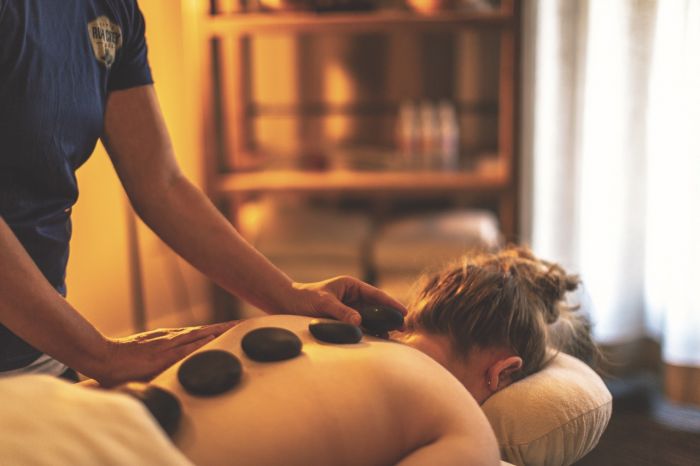 Photo by Rush Creek Lodge and Spa
The Warm Waterfall Cove was inspired by a restorative experience that Richardson had while exploring her favorite Yosemite hiking spot; Carlon Falls – she wanted to emulate the feeling of sitting on a stone in nature and having a waterfall flow right over your shoulders, massaging and surrounding you.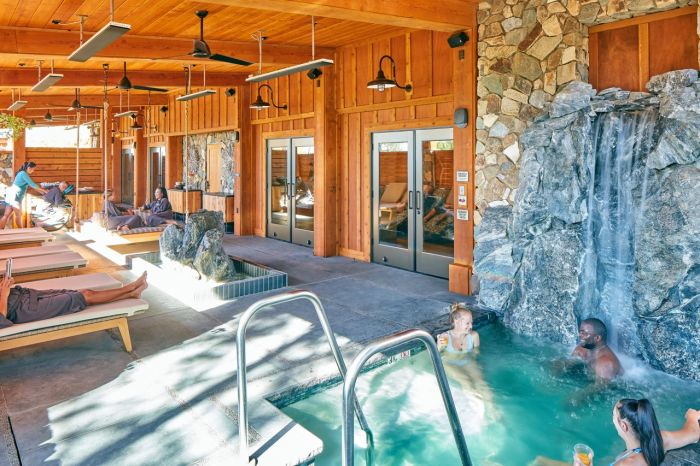 Photo by Rush Creek Lodge and Spa
Imagined by Rush Creek Spa Director Gigi Richardson and designed by San Francisco Bay Area designer Anthony Laurino, the spa thoughtfully incorporates iconic experiences found throughout Yosemite into a wellness experience that induces relaxation and rejuvenation while restoring balance to the mind, body and spirit.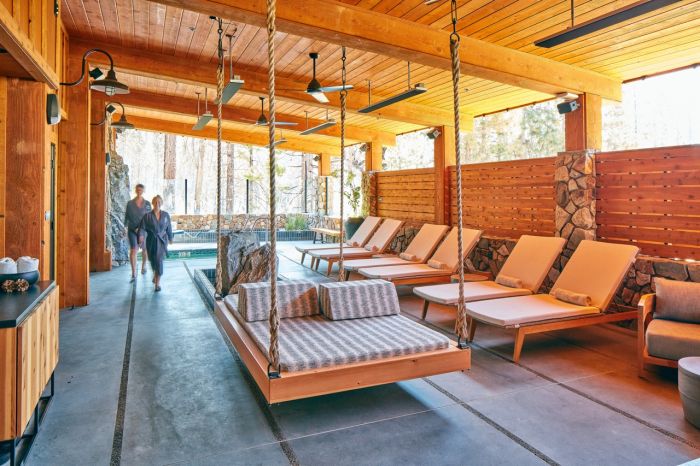 Photo by Rush Creek Lodge and Spa
Another one of Rush Creek's one-of-a-kind wellness experiences is the Warm River Rock Beds, inspired by quiet afternoons lying on Yosemite's smooth, sun-baked granite. he covered, heated outdoor spa area provides a year-round, cozy environment with multiple water features, a relaxing lounge area, fresh mountain air and beautiful scenery.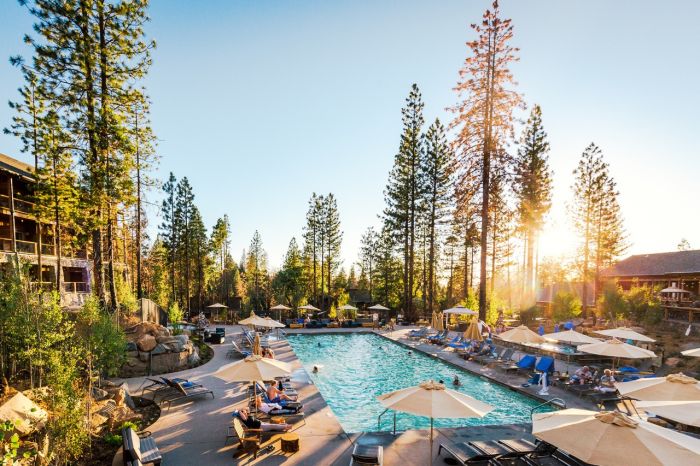 Photo by Rush Creek Lodge and Spa
For the guests looking for a more adventurous getaway, the guides at Rush Creek Lodge have put together hiking tours, camping tours, and other adventures are led by warm, personable guides who are excited to share their passion for and knowledge of Yosemite. There are partial and full-day excursions for all experience and fitness levels, with trips varying seasonally to take advantage of current conditions.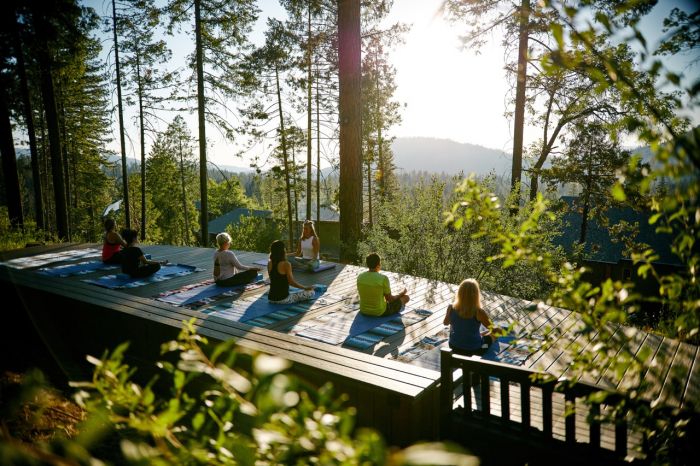 Photo by Rush Creek Lodge and Spa
From the most popular destinations such as Yosemite Falls, Bridalveil Fall, Half Dome, El Capitan, Tunnel View –  plus a 3-mile hike among Giant Sequoias to following in the footsteps for John Muir and even all-inclusive backpacking trips personally designed to fit your needs and expectations.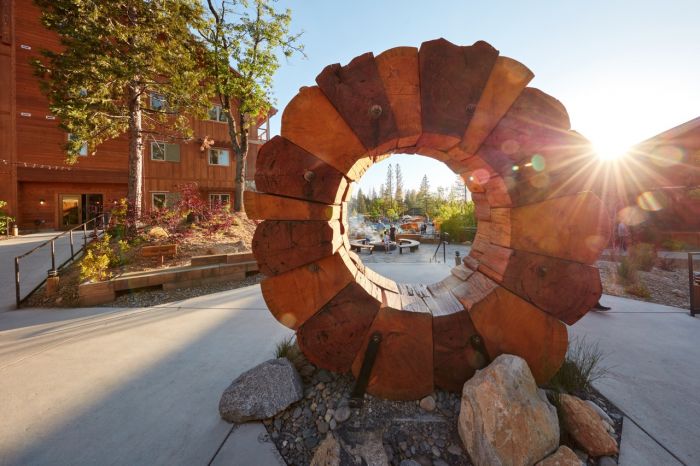 Photo by Rush Creek Lodge and Spa
Whether looking for a relaxing overnight adventure for your family or a rugged backcountry experience, the passionate and skilled naturalist guides at Rush Creek Lodge & Spa can create a memorable and customized experience where the planning is all thought out and the adventure awaits.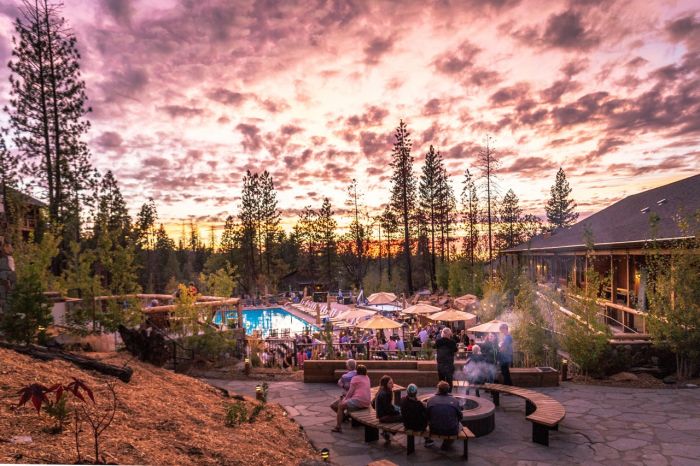 Photo by Rush Creek Lodge and Spa
After a day of exploring the wonders of Yosemite, there's nothing better than returning to the lodge which seems taken out of a fairytale surrounded by redwoods, with multiple pools and play areas for both kids and adults, it takes on an even greater magic at night when guests have the opportunity to make smores at the open fire pits while sipping hot chocolate and star gazing.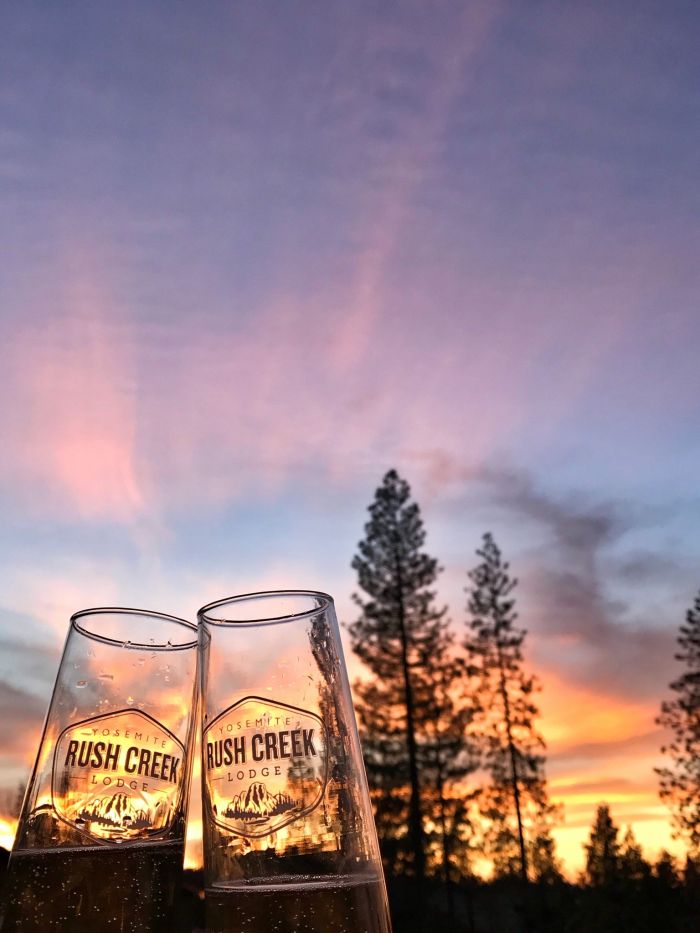 Photo by Rush Creek Lodge and Spa