Hotel Drisco Entrance
Amidst the pristine streets and stately homes of tony Pacific Heights hides San Francisco's number one hotel choice. The elegant Hotel Drisco, housed in a historic 1903 Edwardian building at Pacific and Broderick, blends seamlessly with the gracious mansions that surround it. Its exclusive location, relaxed residential atmosphere, and luxurious amenities make it the hotel choice for those desiring a quintessential San Francisco neighborhood experience. Removed from the characteristic hustle and bustle illustrative of the city's other first-class lodging options, Hotel Drisco is a favorite amongst visiting dignitaries, glitterati seeking a bit of privacy, and neighbors who consider it a hospitable extension of their own homes—a welcoming and sumptuous annex in which to house overflow guests.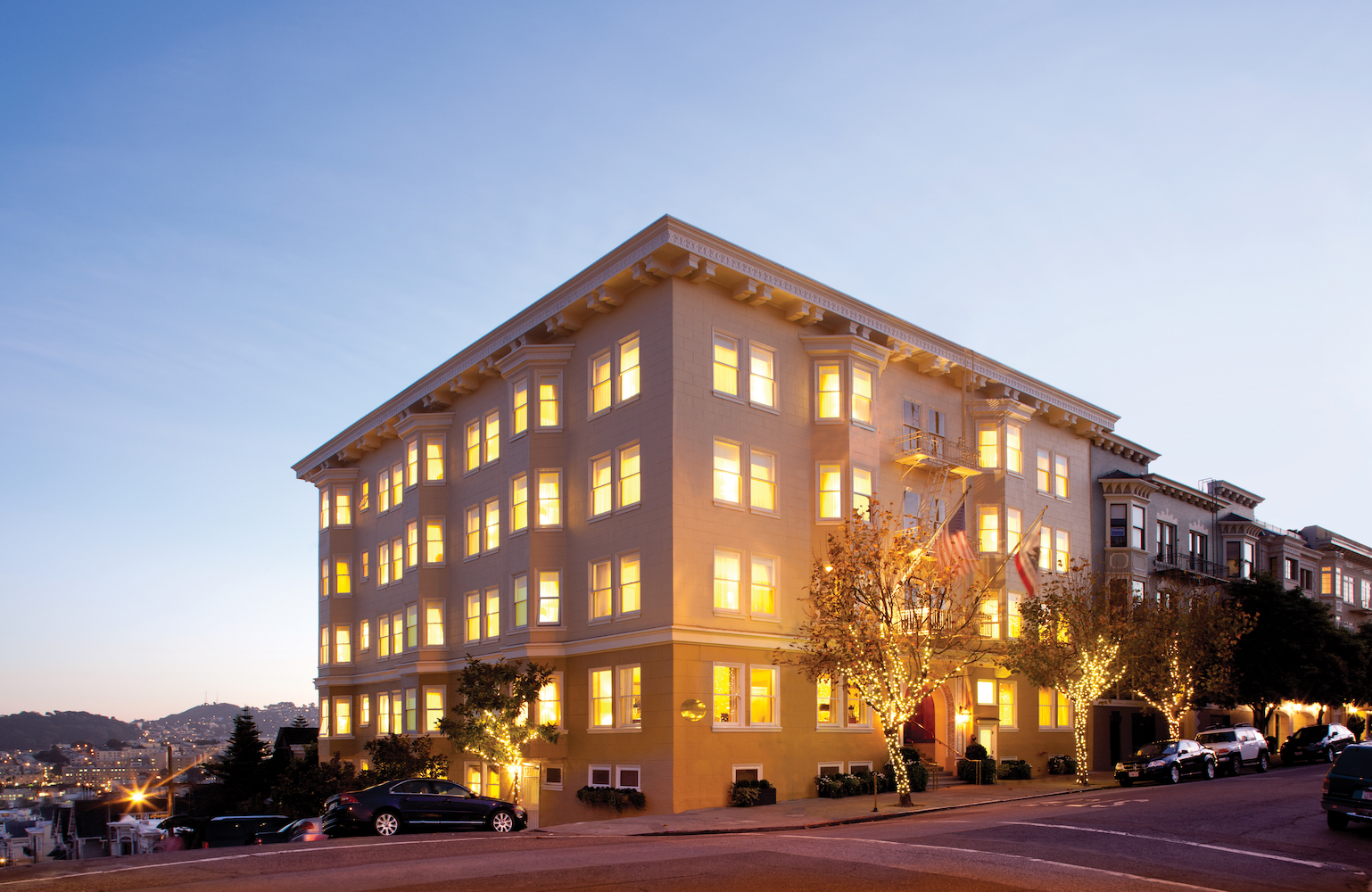 Hotel Drisco is located at the corner of Pacific and Broderick
Yet, despite its incognito character, Hotel Drisco is within convenient proximity to many of the city's most noteworthy boutiques and restaurants, as well as landmark museums and parks. Explore on foot, or borrow an e-bike from the hotel's fleet. Here are additional reasons that Hotel Drisco is, and has always been, a San Francisco favorite: 
Historic Character: Updates and upgrades have been (and are continually) made through the years, but it's the original details that are a large part of the hotel's charm, such as Honduran mahogany paneling and columns in the lobby, guest room wainscoting, and tasseled room keys that hang decorously behind the front desk.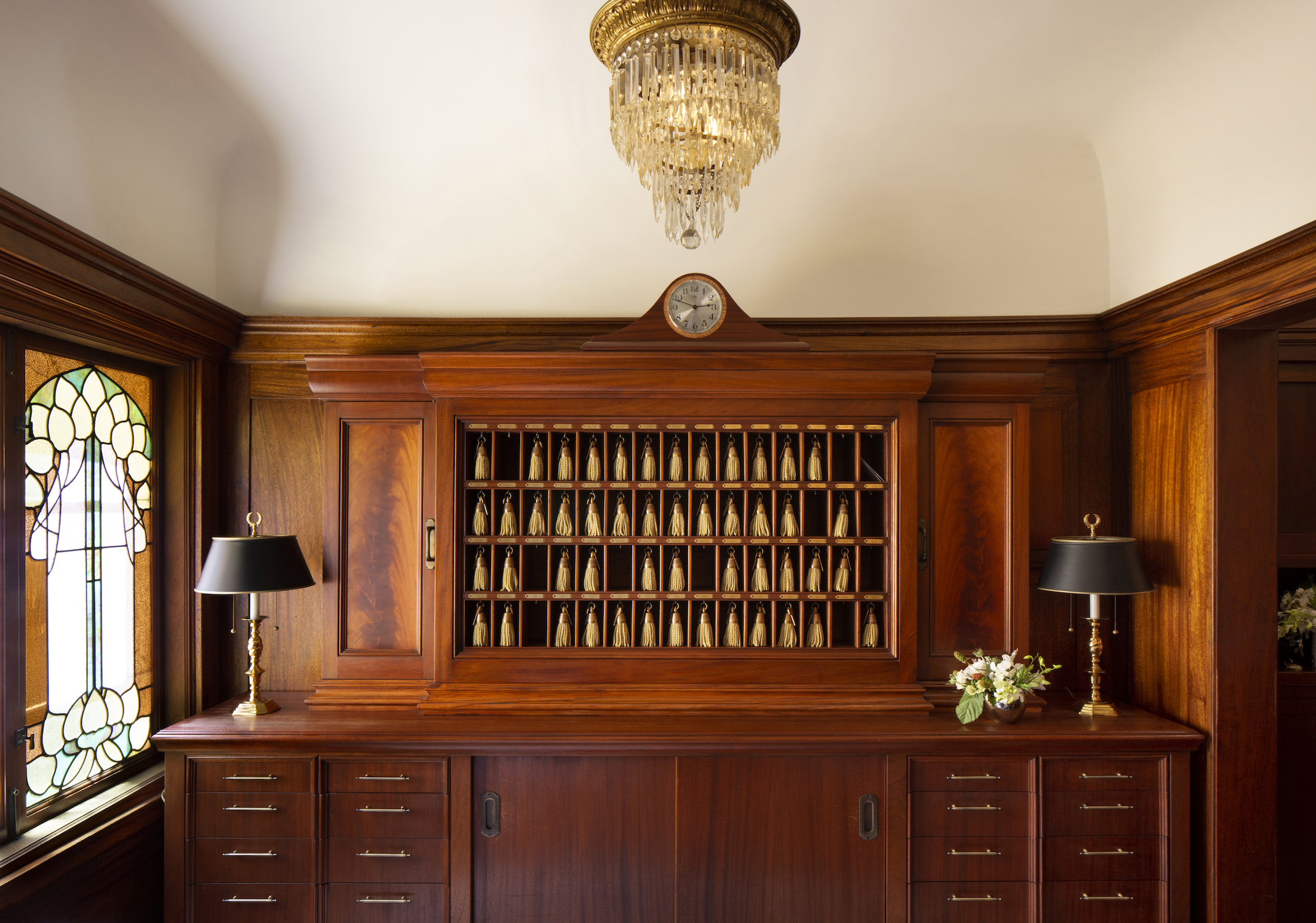 Hotel Drisco Front Desk
Modern Refinements: Each of the 48 varying-in-size rooms and suites (most offering views of the San Francisco skyline) is designed in serene hues of cream, taupe, and slate with striking pops of gold, and each is tastefully appointed with custom-designed furniture and vanities, pillow-top mattresses, custom made goose down comforters and pillows, and Nespresso coffee machines. Marble bathrooms feature radiant heated floors, lighted fog-free vanity mirrors, walk-in showers, and luxurious Bulgari toiletries.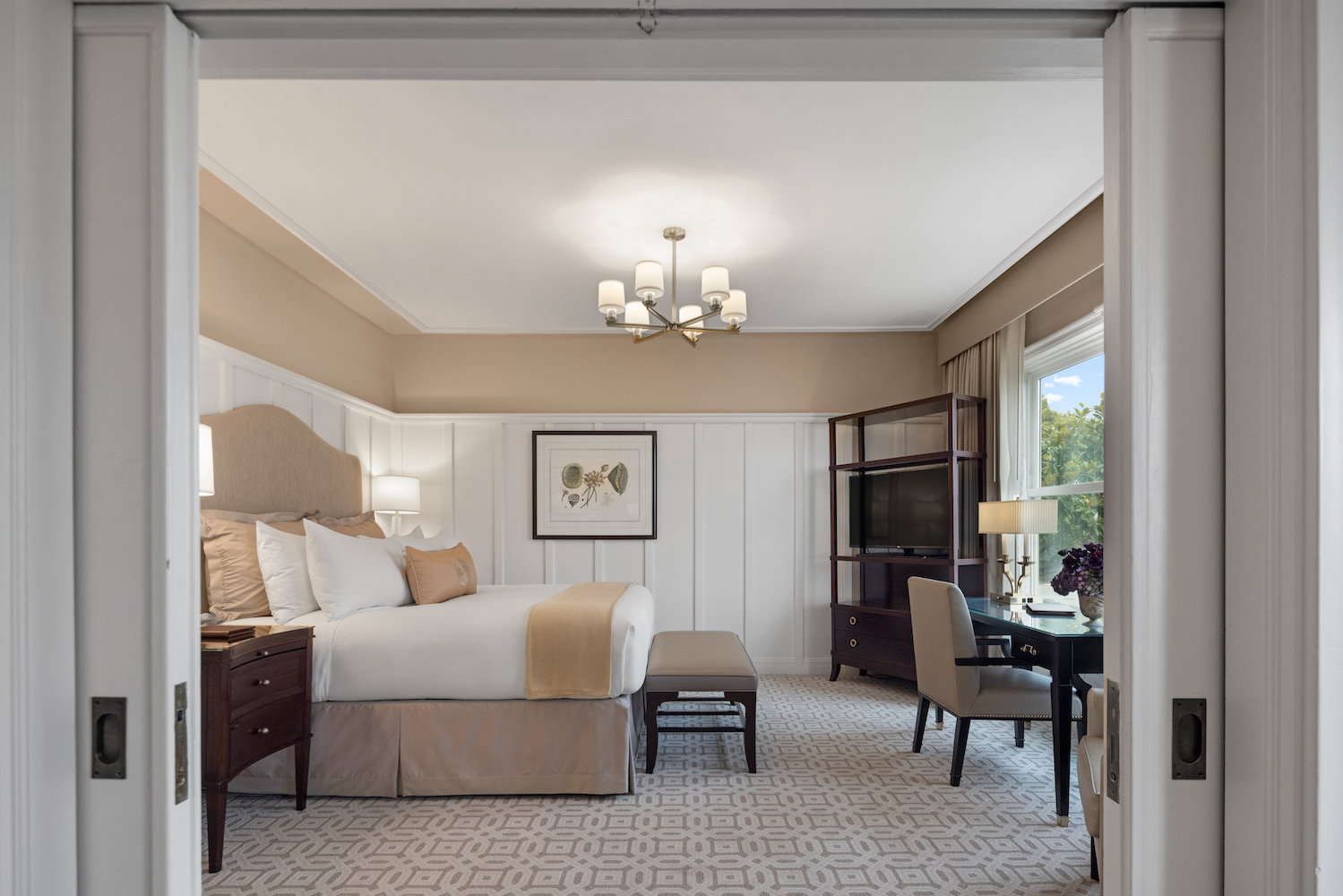 Hotel Drisco Guestroom
Location: Hotel Drisco is within convenient proximity to some of the city's most noteworthy landmarks such as Golden Gate Bridge, Mission Dolores Park, Golden Gate Park, and The Presidio. Distinguished shopping, destination restaurants, and iconic walking streets are also nearby. Just around the corner are the Lyon Street Steps, offering breathtaking views of the Bay and The Palace of Fine Arts. Nearby Alta Plaza Park is another great spot to enjoy sweeping views of San Francisco.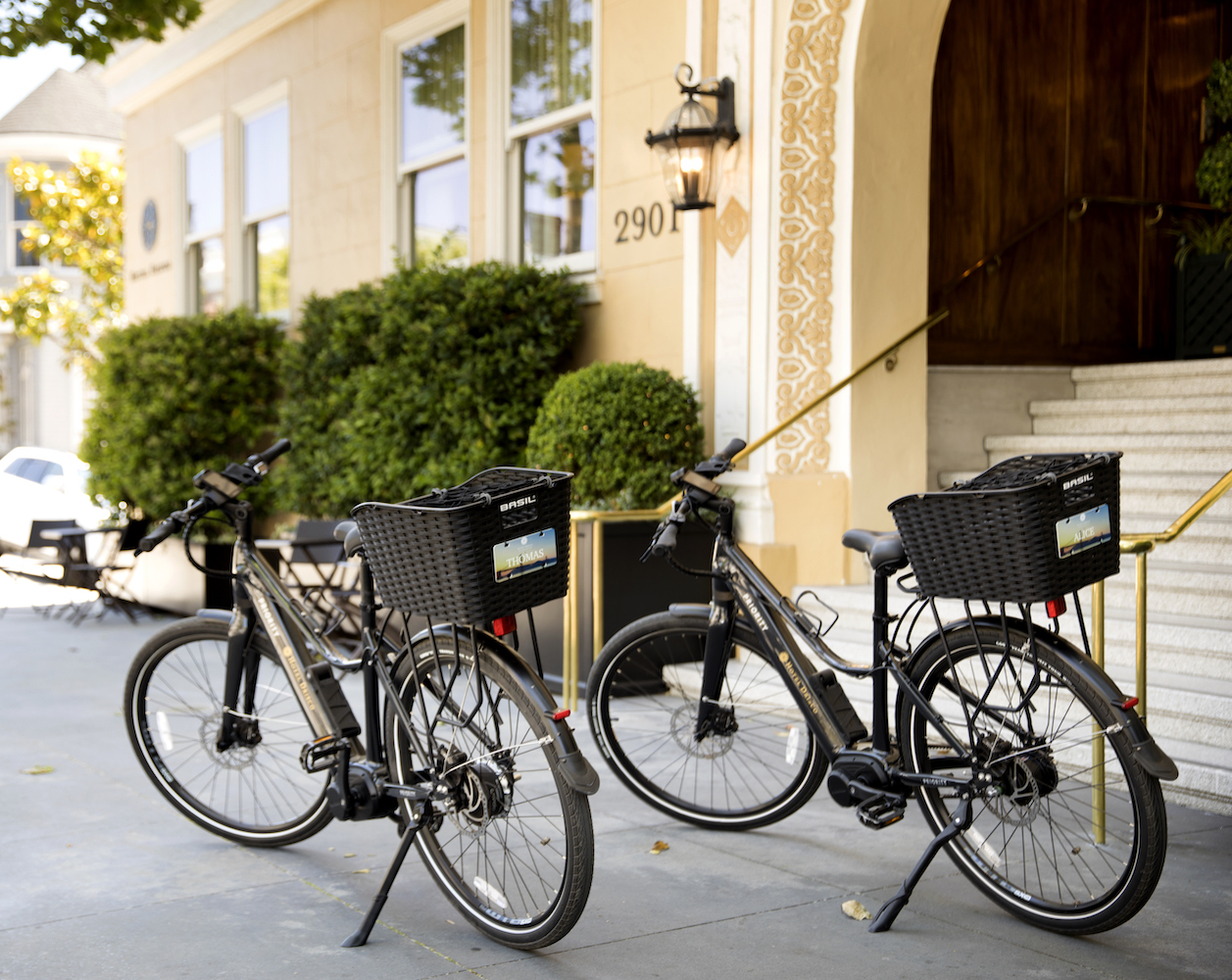 Hotel Drisco E-bikes are perfect for city exploration
Complimentary Food & Beverage: Every evening, from 5 until 7pm, guests are invited to a wine and appetizer reception for which there is no San Francisco equivalent. Guests often end up canceling dinner reservations after enjoying the generous offerings such as Swedish and Italian meatballs, spicy pork bao, cheeses, charcuterie, fruits, nuts, tossed green salad, and a selection of sweets, all of which can be enjoyed within the urbane dining room. The bounty is accompanied by a choice of high-end wines. This lavish amenity is echoed in the morning with an equally impressive breakfast buffet. Pastries, fresh fruit, yogurt parfaits, and eggs made to order are just a few of the morning offerings, which also include coffee drinks made with outstanding Equator Coffee blends. Additional cuisine options are available via 24 hour room service, with an extensive menu featuring a number of gourmet choices and a lovely wine list. 
Hotel Drisco Dining Room
Sustainability: Hotel Drisco is a certified Green Business, meeting the high environmental standards that are recognized by the City & County of San Francisco. Hotel Drisco's green policies and practices are designed to educate the hotel's employees and guests, reduce waste and toxins, conserve natural resources and support local and environmentally friendly businesses. Hotel Drisco has also been awarded "Green Leader Gold" status by Trip Advisor. Key elements of the environmental program include laundry and cleaning, recycling and waste reduction, energy and water conservation and pollution prevention. Additionally, Hotel Drisco's rooftop is home to two hives of honeybees that can produce up to 75 pounds of fresh honey which is available for guest use. 
Employee Longevity: Finally, one sign of a well-run hotel can be found in employee longevity. Hotel Drisco's general manager has served at the helm for a dozen years. The operations manager claims three decades at the front desk, and many members of the housekeeping staff have spent their entire careers caring for Hotel Drisco patrons—dedication illustrative of the loyalty shared by Hotel Drisco's many fans.  
Hotel Drisco's remodeled Sitting Room will be unveiled in May 2023. The space will double in size and feature new custom furniture and fixtures from floor to ceiling. Another guestroom will serve as a temporary Sitting Room during renovations. Additionally, by June 2023, Hotel Drisco will outfit all suite living rooms with new marble-topped cocktail bars, as well as new plush and stylish sofas and end tables.
Hotel Drisco, 2901 Pacific Ave. San Francisco
Photos courtesy of Hotel Drisco