(credit: Sandals Resorts)
This year, Sandals Resorts International opened its 16th property, Sandals Royal Curaçao, inviting couples to experience their renowned all-inclusive vacations in the Caribbean. Sandals Resorts' debut in the Dutch Caribbean brings Signature Love Nest Butler Suites, butlers trained by the Guild of Professional English Butlers, 11 restaurants and 13 bars along with several outdoor activity offerings. Other Sandals' firsts include the first-ever island-inclusive dining program taking guests to dine at local restaurants in the island, complimentary mini coopers and the brand's first-ever bi-level Dos Awa Infinity Pool, allowing guests to achieve an immersive all-inclusive experience together.
(credit: Sandals Resorts)
Love is in the air at Sandals Royal Curaçao as travelers can now experience this soulful part of the region with the company's plethora of love-themed offerings and the island-first approach to tourism and its impact on the local ecosystem. "We were inspired just as much by the island's natural beauty and colorful culture, as it was by our guests and the many ways they can engage with this amazing destination," said Sandals Resorts Executive Chairman Adam Stewart. "This resort is a testament to the transformative power of tourism that not only up the ante on all-inclusive vacations, but celebrate the local people, flavors and terrains every step of the way."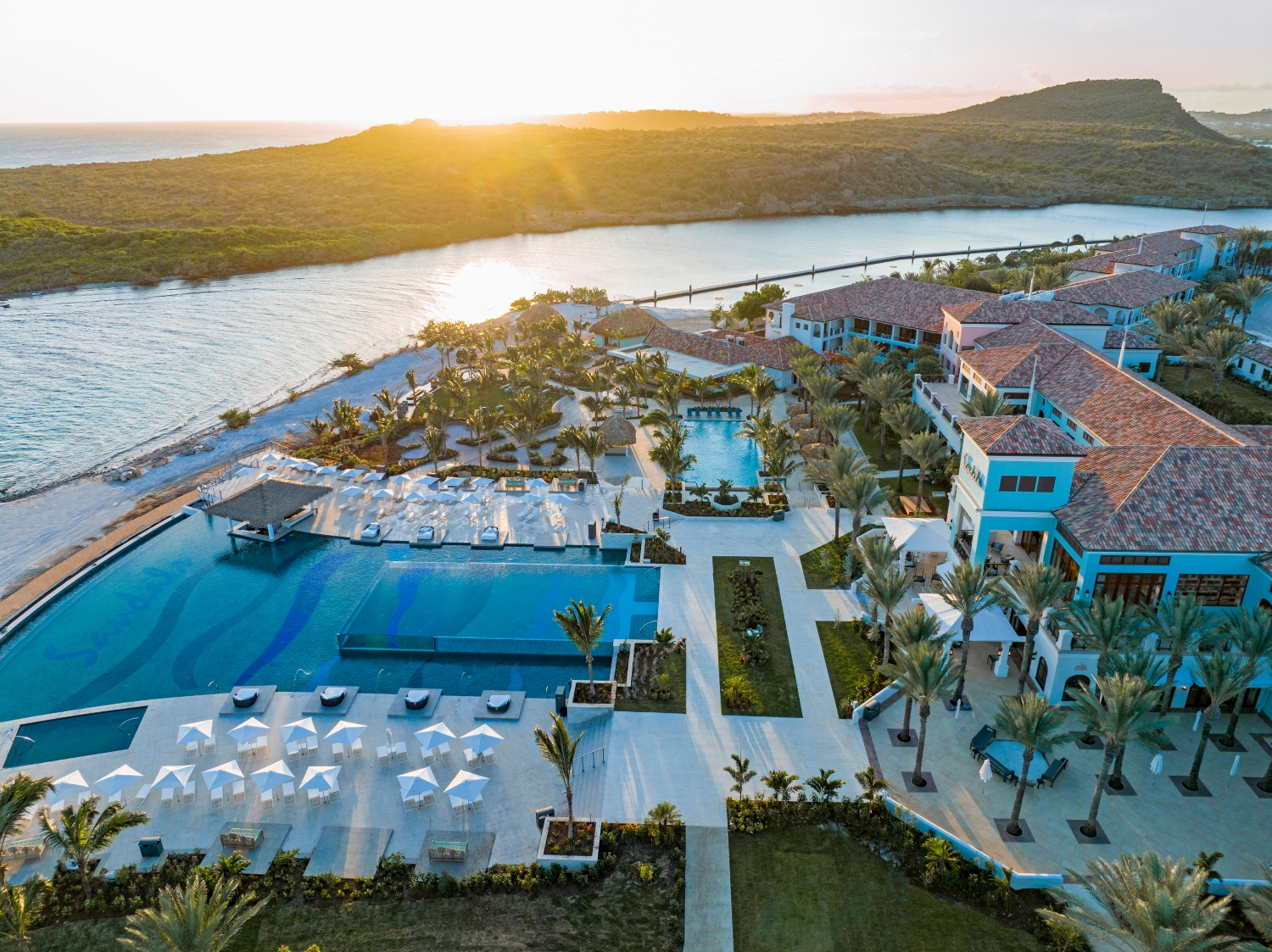 (credit: Sandals Resorts)
The adults-only resort is located on 44 acres within the exclusive 3,000-acre Santa Barbara estate, and like all Sandals Resorts, it faces west to capitalize on one of the Caribbean's most spectacular sunsets. It is a romantic paradise designed for lovers featuring 350 rooms and suites, including the first-ever Awa Seaside Bungalows with private pools, the first Kurason Island Suites overlooking a heart-shaped pool and the unique Dos Awa two-level Infinity Pool. Guests who stay in the top suites are also coupled with Sandals' Signature Butler Elite service, airport transfers and fully stocked wet bars for select suites.
When debuting this resort, Sandals partnered with the iconic fashion designer Stan Herman, to unveil the new "Anniversary Collection" Team Member uniforms curated by Herman exclusively, commemorating the 40-year milestone year for the brand.
(credit: Sandals Resorts)
A long list of included activities span from water sports, daily entertainment and live shows, love-themed offerings and games as well as golf at the Pete Dye designed Old Quarry course. The resort also affords couples the opportunity to discover the beauty and geographic diversity of Curaçao, known for its adventurous terrain, pristine beaches, limestone caves, spectacular diving sites, and vibrant capital city Willemstad, a UNESCO World Heritage Site.
Along with 11 culinary concepts, three beachside gourmet food trucks and 13 bars, guests can further immerse themselves in the unique flavors of the island, with the brand's first-ever off-site dining program, Island Inclusive, that is changing the all-inclusive game. This $250 offering expands its all-inclusive dining options to eight partner restaurants around the destination and is available exclusively to guests who are booked in Butler suites and valid on seven-night minimum stays.
Declare your love in awe-inspiring surroundings from heart-shaped lounges to the serene spa, where couples can begin (or bolster) their next chapter of life together.