As a professional photographer living in San Diego, I'm often asked where my favorite photography spots can be found. I think it's safe to say that there's no shortage of beautiful, photogenic landscapes across San Diego. No matter what your skill level is in photography (or even if you just want to take some nice photos with your phone), when you travel to San Diego you'll find more than enough spots to check out. However, here are some of my favorite locations that offer picturesque views that are perfect for photographers or anyone just who wants to enjoy an awesome sunset (my favorite time of day to shoot).
Here are the best known and unexpected spots you should visit on your next trip to San Diego:
Scripps Pier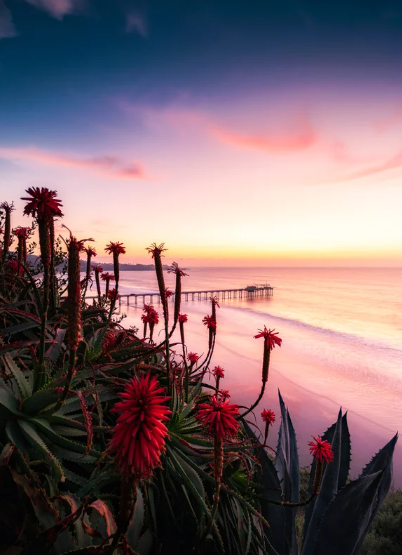 Scripps Pier is easily one of my all-time favorite spots that I've photographed hundreds of times. I highly recommend taking advantage of the entire surrounding area to capture the pier and beach. This is an awesome spot at any time of the day, but it is the best right around sunset! You are also right up the hill from the La Jolla Cove and across from the Birch Aquarium, so you can easily spend a day in La Jolla.
Pro Tip: I would recommend exploring the surrounding paths and hills to find some unique angles to shoot from. Bring a couple of different lenses and get away from the main crowd that's down by the beach so you can find some unique spots and compositions. Drop your shutter speed (below 1/60) to get some neat long exposure shots and smooth out the water!
Windansea Beach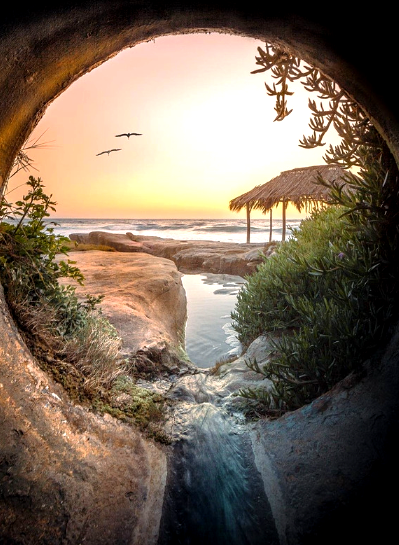 Windansea Beach is a popular location for engagement and graduation photos because of the rocks and the unique locally-built grass hut right by the water. A few yards beyond the hut is another one of my favorite spots to shoot. Using the elements at hand can help you frame your photo to offer a unique perspective.
PRO TIP: It does get pretty busy here at all times of the day, so if you are coming here for sunset photos, leave a little early to find a spot to park and set up your camera. This is also a super fun place to fly a drone. There are many beautiful aerial shots you can get of the shoreline and the rocks looking down on the water. Pack all your gear if you visit this spot as it's perfect for all styles of photography!
Coronado Island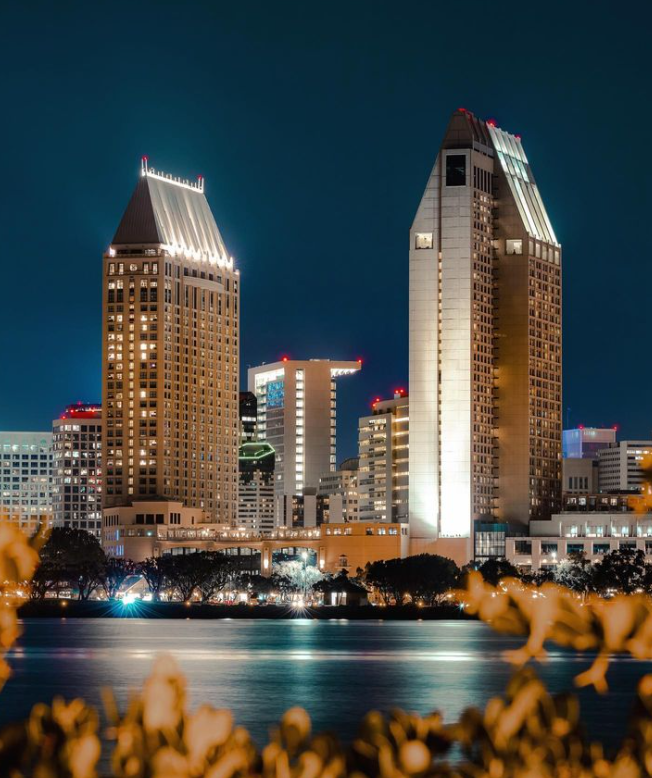 Headover to Coronado Island for the best place to photograph the entire downtown San Diego skyline. Look over the water towards the city as the sun sets, and all of the highrises and buildings glow, creating the perfect backdrop to any landscape shot or portrait you might be taking. It's also just a great spot to hangout and enjoy the views of the city at any time of the day or night.
PRO TIP: Be sure to pack your wide angle lens– anything between 14-16mm is perfect for this spot. Don't forget your tripod if you also want to get some neat timelapse or long exposure shots of the city at night. There are a decent amount of spots to shoot from over here, so walk around to find some creative angles and neat foreground elements if you are photographing the city.
Balboa Park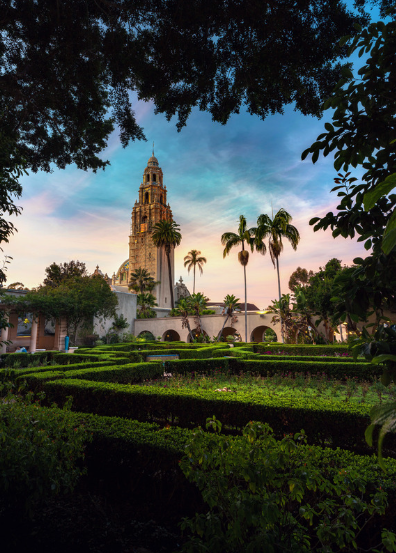 I think most San Diegans will tell you Balboa Park is a special place. Those of us who grew up here remember taking school field trips to see one of the dozen museums or exhibitions taking place. When you come here, have your camera ready to capture captivating views at any moment. While there are multiple gardens on the property, I always recommend stopping by the rose garden or the botanical garden. You can even go up to the top of the Old California Tower for some of the best views in the entire park!
Pro Tip:  Bring your fastest lens and get some awesome shots of the garden as the light here can be awesome in the evening. If you can make it up to the top of the California Tower right before sunset, bring a long telephoto lens (100mm-400mm) to get some really unique photographs. There are a lot of cool sightlines up there that you can only see by looking through a camera. This is another spot that gets very busy so plan ahead and allow enough time to explore the entire area.
Cabrillo National Monument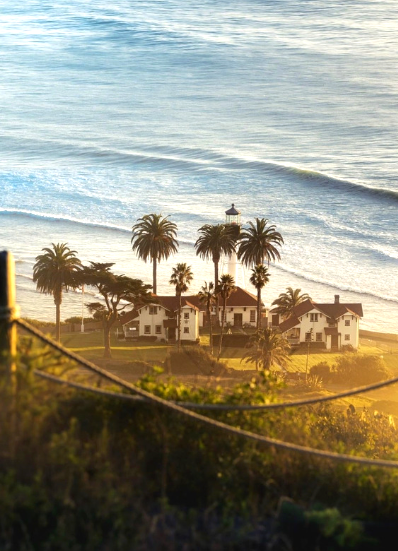 How many cities get to say that their historical spots also have amazing views? Come here to see and learn about San Diego's first lighthouse built in 1855! On a clear day, you can see all of downtown and even south into Mexico. There are even tidepools down by the water, and some great spots for engagement photoshoots. Depending on what time of the year you are here, you might even see the ocean and harbor full of sailboats during a race.
Pro Tip: Be sure to bring your telephoto lens– 150mm or 400mm lens is my go to for up here. This way you can get some awesome shots looking back toward downtown. Also, you can actually go inside the lighthouse! There is a neat spiral staircase that you can shoot down from the top and it makes for an interesting photo. For the best results, you should also pack a 14mm or 16mm lens, which is the ideal lens for this staircase shot.
Torrey Pines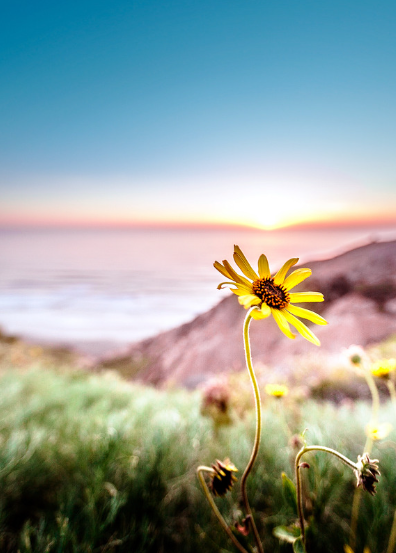 You can't go wrong with any area in Torrey Pines, so I recommend this location especially for new photographers. Spend time exploring the beaches and trails to easily expand your photography portfolio. You can also hike one of San Diego's most popular trails (Torrey Pines State Natural Reserve) while you take photos and enjoy the beach views. Overall, just a great spot to visit at any time of the day!
Pro Tip: If you plan on hiking the trail and taking photos, bring a minimal camera setup as there are a decent amount of hills and the extra weight of a camera bag can be tiring. You could carry a small 50mm lens or even just your phone and still get some great shots while enjoying the hike! It's busy here pretty much all day, but it's worth the visit. Early mornings are hard to beat, as you can watch the sunrise from the top while enjoying the ocean views and taking some simply amazing photos!
Swami's Beach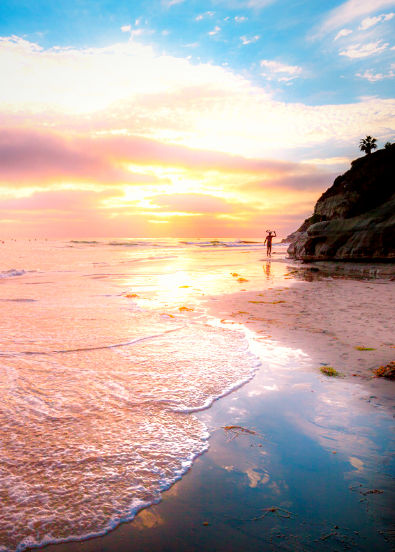 Swami's Beach is a gem of North County San Diego, and a great beach area to photograph. There are various lookouts and benches to view the ocean, you can walk along the 101 to explore, or you can head to the nearby Meditation Gardens to relax. There are tons of great shops and restaurants around here, but the ocean views along the coast are definitely the star of the show.
Pro Tip: Early morning or right before sunset is the best time to be here. On a super clear day, the colors of the sky reflecting off the water mixed with all of the surrounding palm trees make for some awesome shots. There is even a staircase that will take you down to the shore. This is also a great place to take some long exposure shots and timelapses. Bring all of your gear with you as there are so many awesome spots in the general area to photograph!
Talbot Street View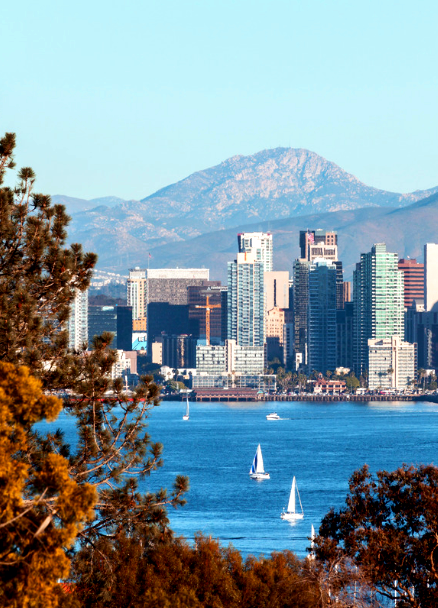 A favorite view and vantage point of mine to see downtown San Diego is actually on Talbot Street. This steep hill gives you some awesome angles of downtown and you can use the trees in the neighborhood, as well as the steep street, to frame your shot. This is also my favorite spot to watch 4th of July fireworks that happen out on the bay.
Pro Tip: A telephoto lens (100mm+) works really well here if you want to capture awesome shots of downtown. If you are here for fireworks, a tripod is a must. Try a 1-3 second shutter speed starting as soon as you see the fireworks shoot off. This way you capture the entire firework from start to finish. It might take a few tries, but with the right timing, you'll get the fireworks photo you have been eager to capture.
Oceanside Harbor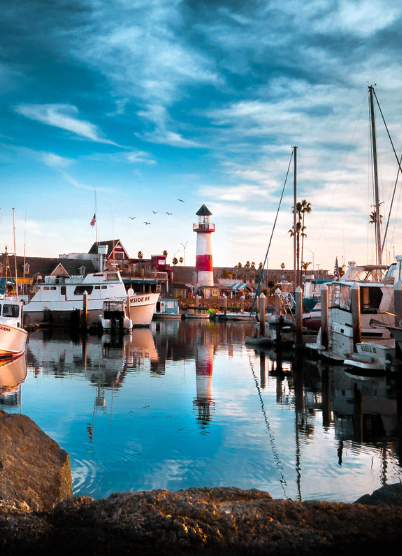 If you are in the Oceanside area, about as far north in San Diego as you can get, you can look forward to exploring many unique shops, restaurants and places to walk around and explore. A bit north past the pier and down by the harbor, you'll find some great picnic spots and photo opportunities. My favorite spot is right down by all the boats docked in the harbor. The reflections from the water make for some neat shots.
Pro Tip: Get extra creative and low to the ground here to add more reflections in your shot. On a day where there are some clouds in the sky, and as soon as the sun sets, you can get awesome reflections of the clouds and colors in the water. There are many spots to walk around, so come a little early and find your favorite angle and view so you know exactly where you want to shoot when the sun starts to set. A lower shutter speed will look better for reflections as this will smooth out the water a bit and make it look calmer.
SD Airport Bridge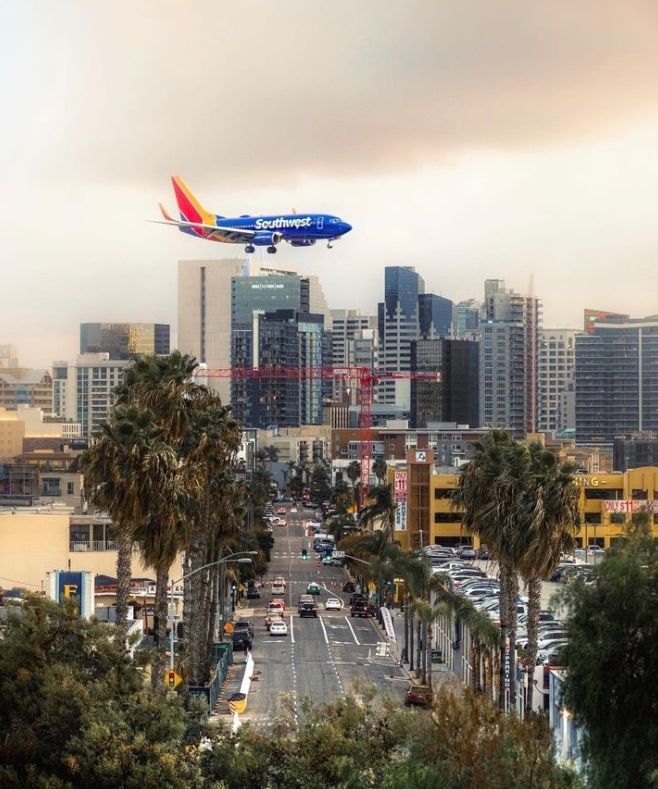 The planes that come in to land at the San Diego International Airport take a really unique and low flight path. There's a bridge right above the 5 freeway that is a great spot to capture the planes as they land or take off. Head over to the corner of Palm and India street and you'll find a good place to park and the entrance to the bridge across the street. Walk across the entire bridge and look at all parts of the fence. You'll actually find a few different openings that a camera lens will fit through so you can shoot from multiple spots. This is another great spot for photos, videos and timelapse content. Sunrises and sunsets are awesome from here!
Pro Tip: When you're flying into the city, try to get a seat on the left side of the plane. As you land, you get a neat view of all of downtown and the ocean. Some unique photo opportunities you can only see from an airplane window! You'll only have a split second to get some shots so get your camera settings ready ahead of time. At least a 1/250 shutter speed if possible!
Funded in part with City of San Diego Tourism Marketing District Assessment Funds.
Related