There are countless reasons to travel. Jet-setting to a cosmopolitan city for a food festival or mega concert, for others it may be a power shopping mission on a version of Rodeo Drive, and for the culture vulture, their trip will take them to see a hot new play or museum exhibit. Another reason to travel is for an adventure and to explore exotic and unspoiled nature in a far-off place. Iceland is without question one of the most unforgettable destinations for that adventure in a land of unfamiliar landscapes with glaciers, geysers, and waterfalls to discover. In the middle of what seems to be nowhere in Western Iceland is the ideal base to explore what this amazing part of the country has to offer at the Hotel Husafell.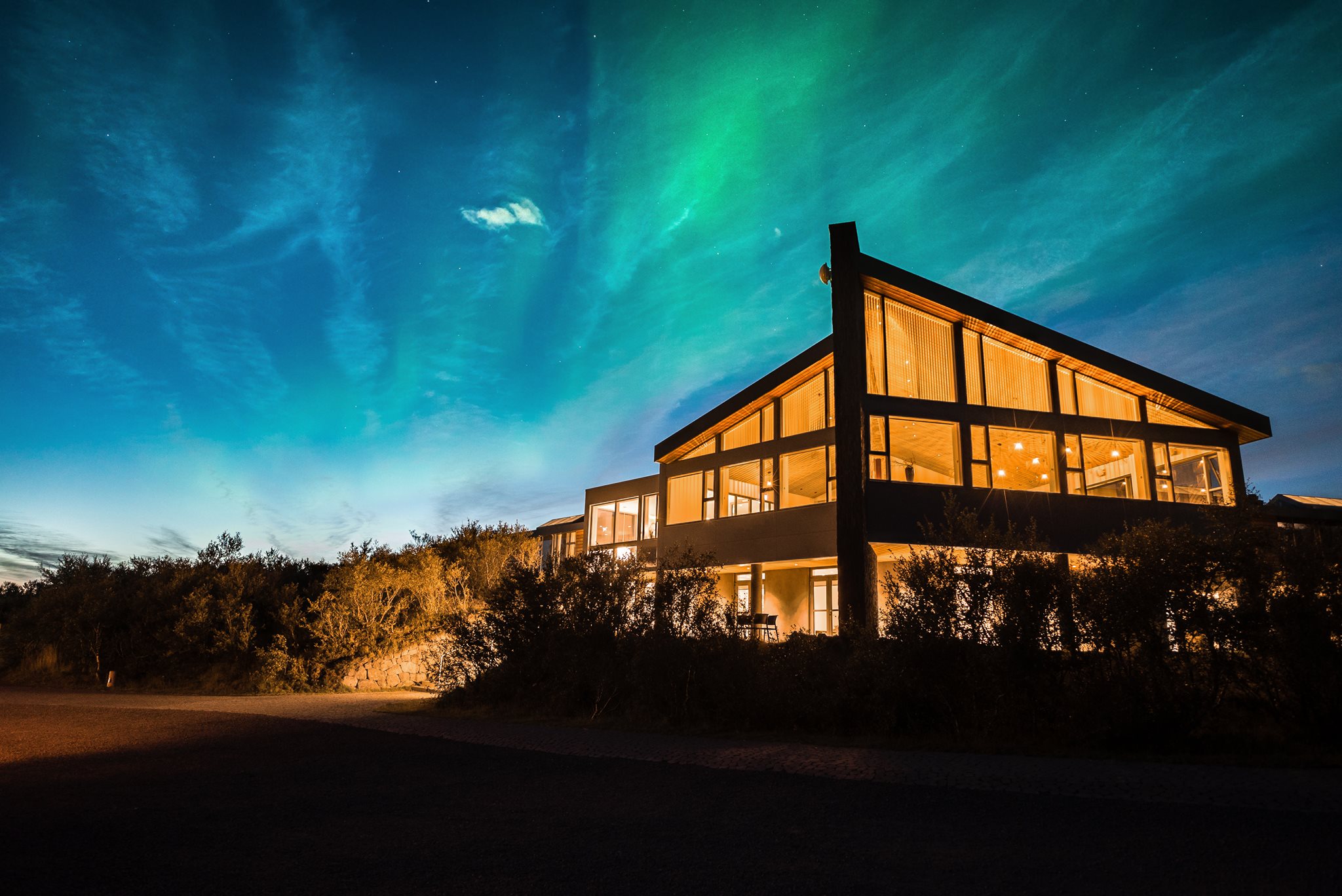 The hotel is located in the middle of the Western Iceland region about two hours from Reykjavik.  The journey brings you through a drive of constant beautiful scenery and other-earthly landscapes.   The hotel is located near a small village and so close-to-it-all to explore nature's gifts. And boy is there so much to do from geothermal pools, waterfalls, mountains and canyons, lava caves, and more. From September through April, due to the sparse population and lack of light pollution, it is also an ideal location to see the mesmerizing Northern Lights as well. In fact, Forbes Magazine named it among one of the best locations in the world to see the Aurora Borealis.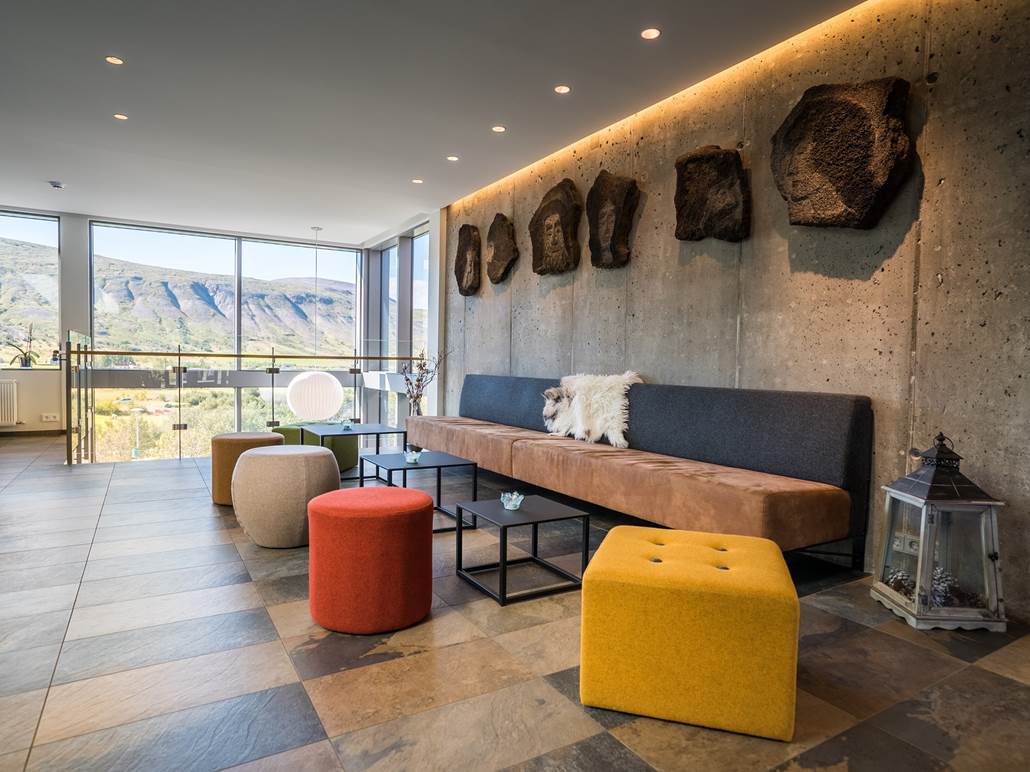 When the day of exploring is finished, the hotel redefines eco-luxury in a sanctuary of creature comforts with luxurious accommodations, exceptional dining, and lavish amenities. Due to the hotel's unique attributes, locations, and offerings, it has been selected as part of the National Geographic Unique Lodges, an exclusive collection of hand-picked hotels that are committed to sustainability, authenticity, and excellence in service.   
The Husafell Hotel is extraordinary in another aspect as well; it uses 100% renewable geothermal energy sourced from its own in-house plant. The technology is quite interesting as it taps into the heat deep below the surface power turbines as well as the steam is directly funneled through pipes to heat the facilities, accommodations, and flooring. It is the only hotel in Iceland that is fully sustainable and with its own powerplant. Beyond its use of renewable energy, the hotel is also constructed with renewable and sustainable materials.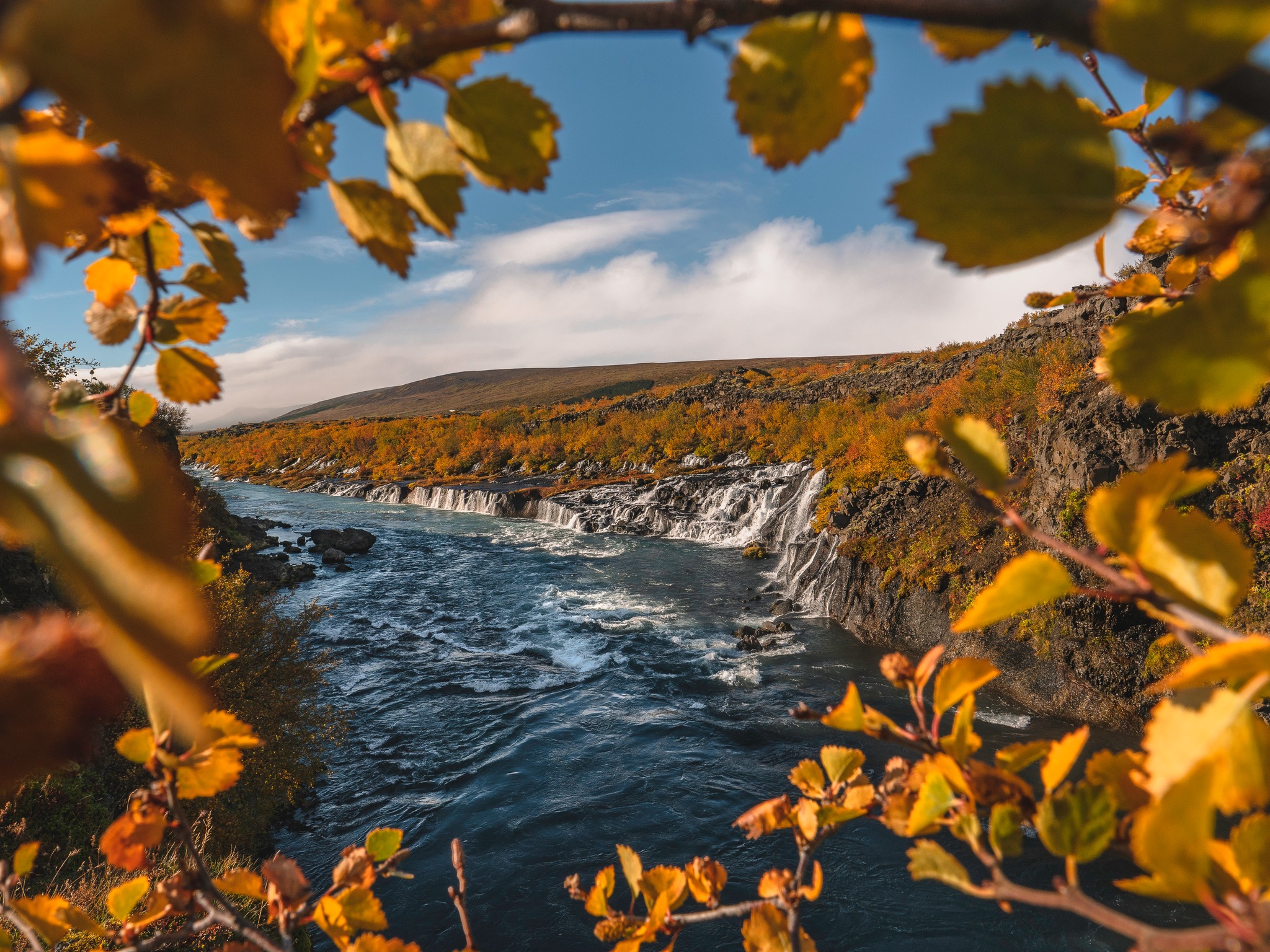 The hotel is surrounded by the sublime nature of the dramatic Central Highlands with woodlands, and farms and is close to one of the largest glaciers in Europe.  In the distance is an imposing mountain range rocky with patches of snow with the occasional waterfall. The settlement of Husafell is yards away with a few houses, many of which act as weekend homes for the residents who have moved to the big city.  The town's favorite son is sculptor Páll Guðmundsson who creates striking stone faces from lava stone. His workshop is still there and you'll see his mesmerizing pieces adorning the hotel's interiors.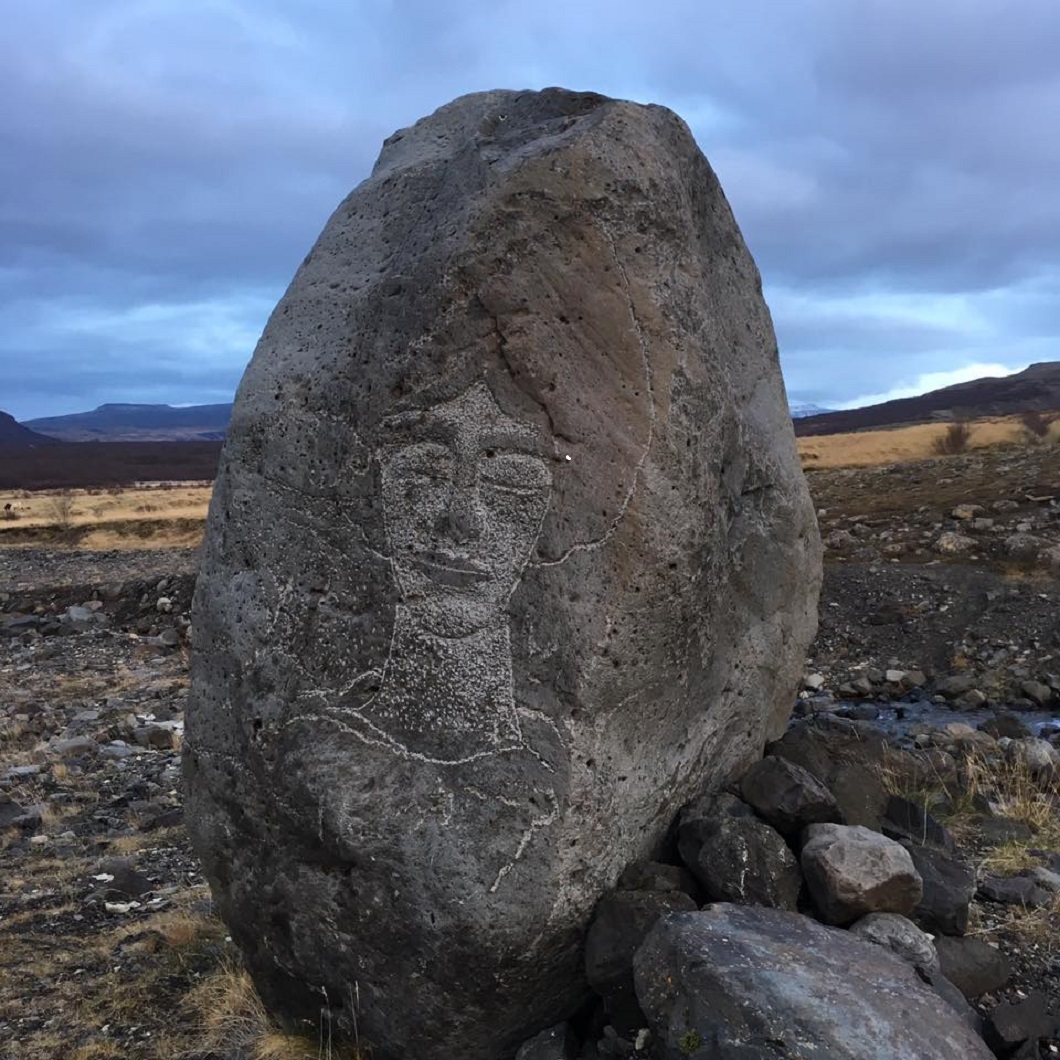 Lava Stone Carving by Páll Guðmundsson
The hotel is perfectly located in West Iceland to explore the sights and adventures of the area. A must-see is the Hraunfossar waterfalls with its raging waters and rocky canyon and cascading waters. Also nearby is Langjökull, the third largest glacier in Europe, to be explored by guided hikes, snowmobile, or super jeep. Another incredible site to explore is the largest lava cave in Iceland Vidgelmir. After it is all done, a long soak in the Húsafell Canyon Baths- geothermal hot springs surrounded by mountains -is a must.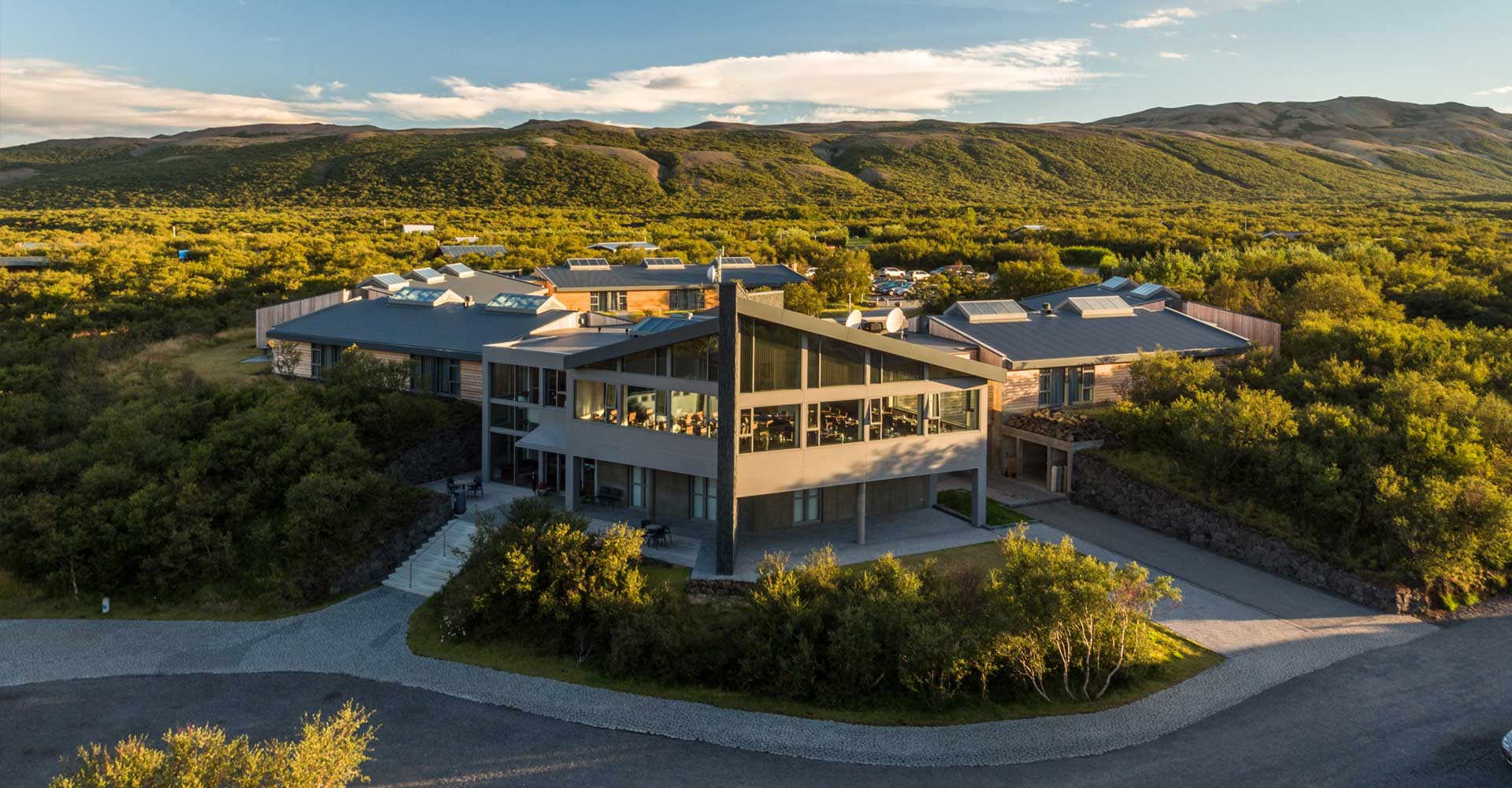 Hotel Husafell is the ideal hotel for an Icelandic adventure. The architecture is striking with geometric shapes and soaring rooftops, Yet it perfectly complements the natural surroundings with a contemporary design constructed of massive windows, raw stone, and exposed wood.  Interiors are fresh and modern with a distinctly minimalist and Scandinavian influence with raw wood surfaces and earth tone tiles and with artwork by local artisans such as Guðmundsson and others. The hotel offers two restaurants, a bar, and plenty of tranquil spaces to relax. Outdoors there are two geothermal heated pools, hot tubs, and a nine-hole golf course.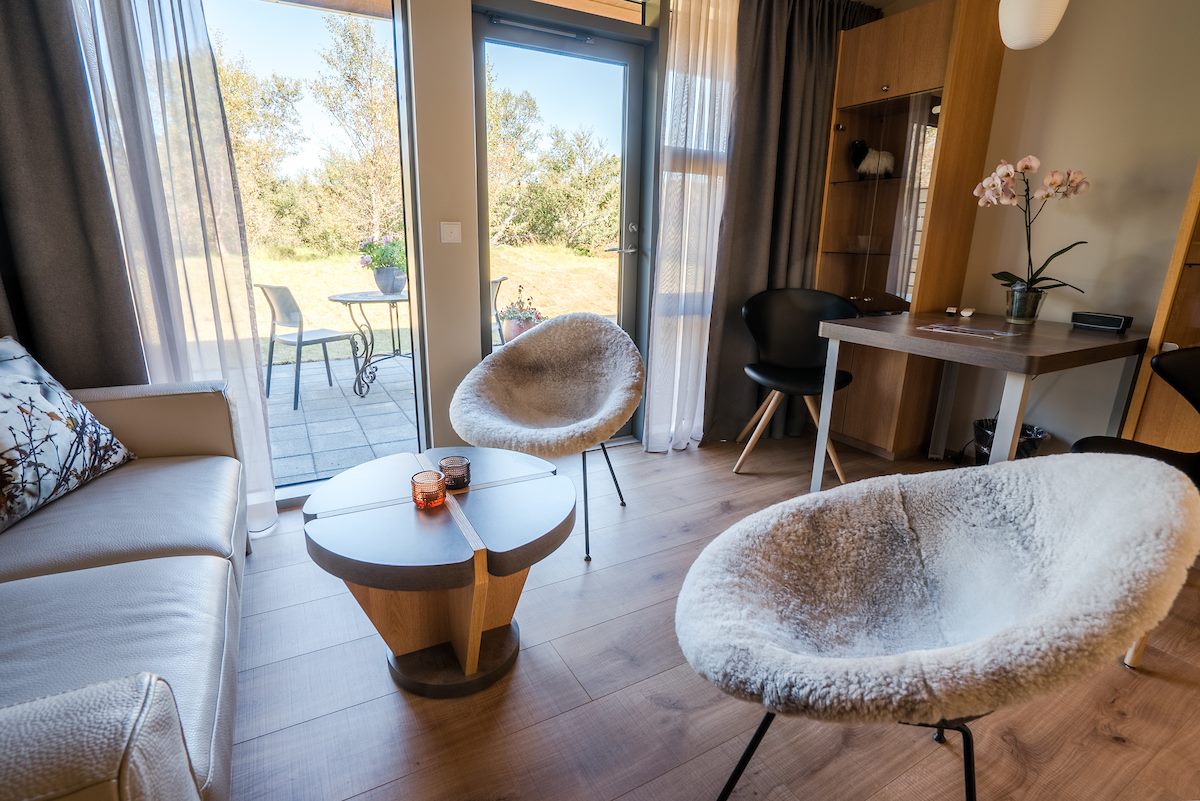 The low-rise hotel offers 48 contemporary accommodations that range from rooms to suites all with heated floors and comfortable furnishings. The rooms are bright, modern, and tastefully decorated with Icelandic touches including sheepskin chairs, paintings by Páll Guðmundsson, and Icelandic bathroom amenities. The suites are impressive with separate living spaces and spacious bathrooms with rich earth-tone tiles large baths and separate showers.  Many of the rooms come with outdoor terraces with the sitting area facing the stunning natural surroundings.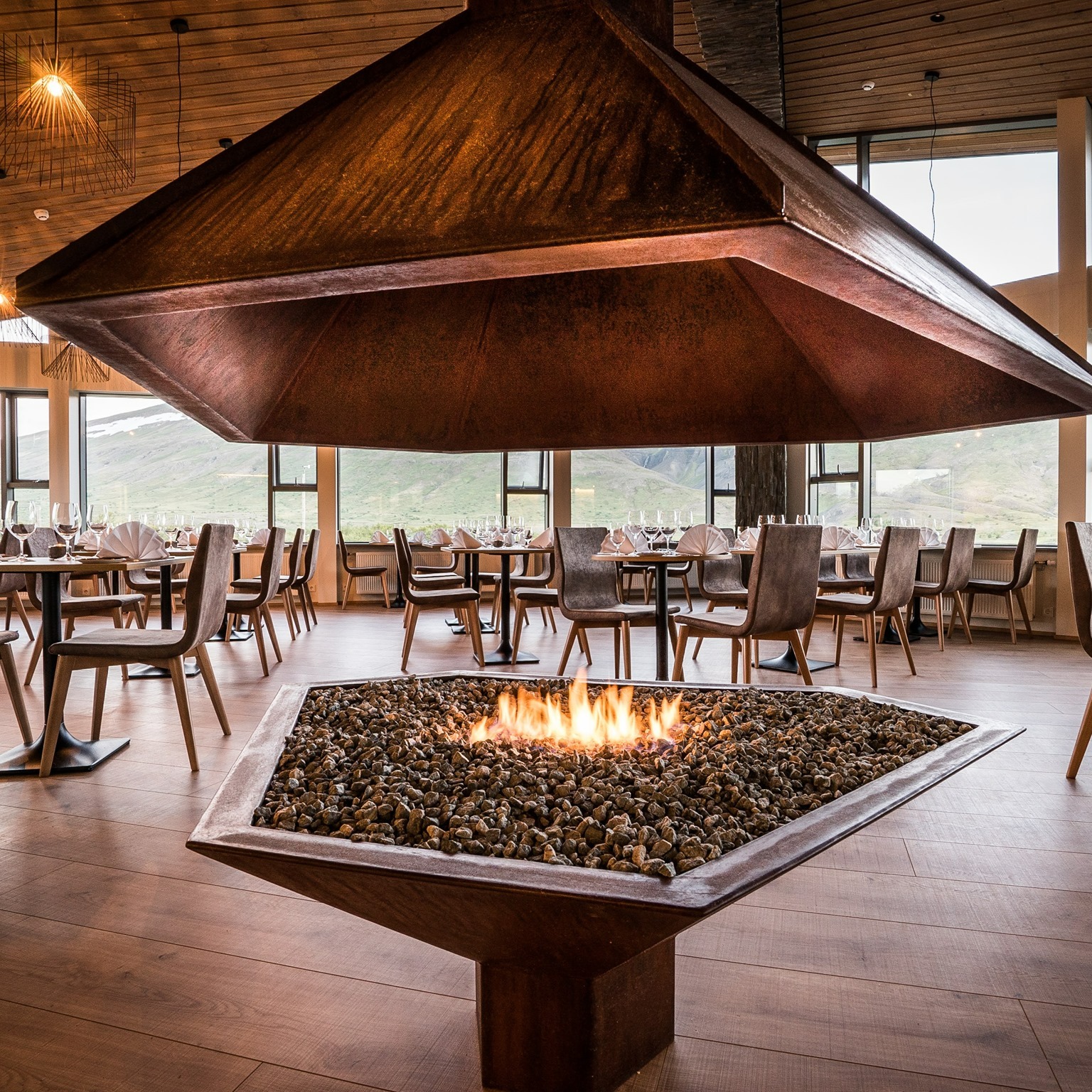 With all the adventures there are to pursue, you're going to need a lot of energy and sustenance. The gourmet dining experience at Hotel Husafell does that and more with delicious cuisine focused on traditional Icelandic fare.  The restaurant's design is beautiful as well, with two-story high windows giving panoramic views of mountains and canyons with a dramatic fire pit in the center.
The menu makes the stay all the more authentic with a creative fusion of Icelandic and international fare made from seasonal ingredients that are sourced from nearby producers including local salmon, arctic char, organic lamb, and fresh vegetables grown in the nearby geothermal greenhouses. The menu includes items such as Westfjords scallops that were harvested by hand, with brown butter, orange ponzu, and roasted walnuts or the birch smoked lamb filet glazed in whey and coated with lavender. For the more daring diners, opt for the Icelandic game meat menu and dine like the Vikings of old.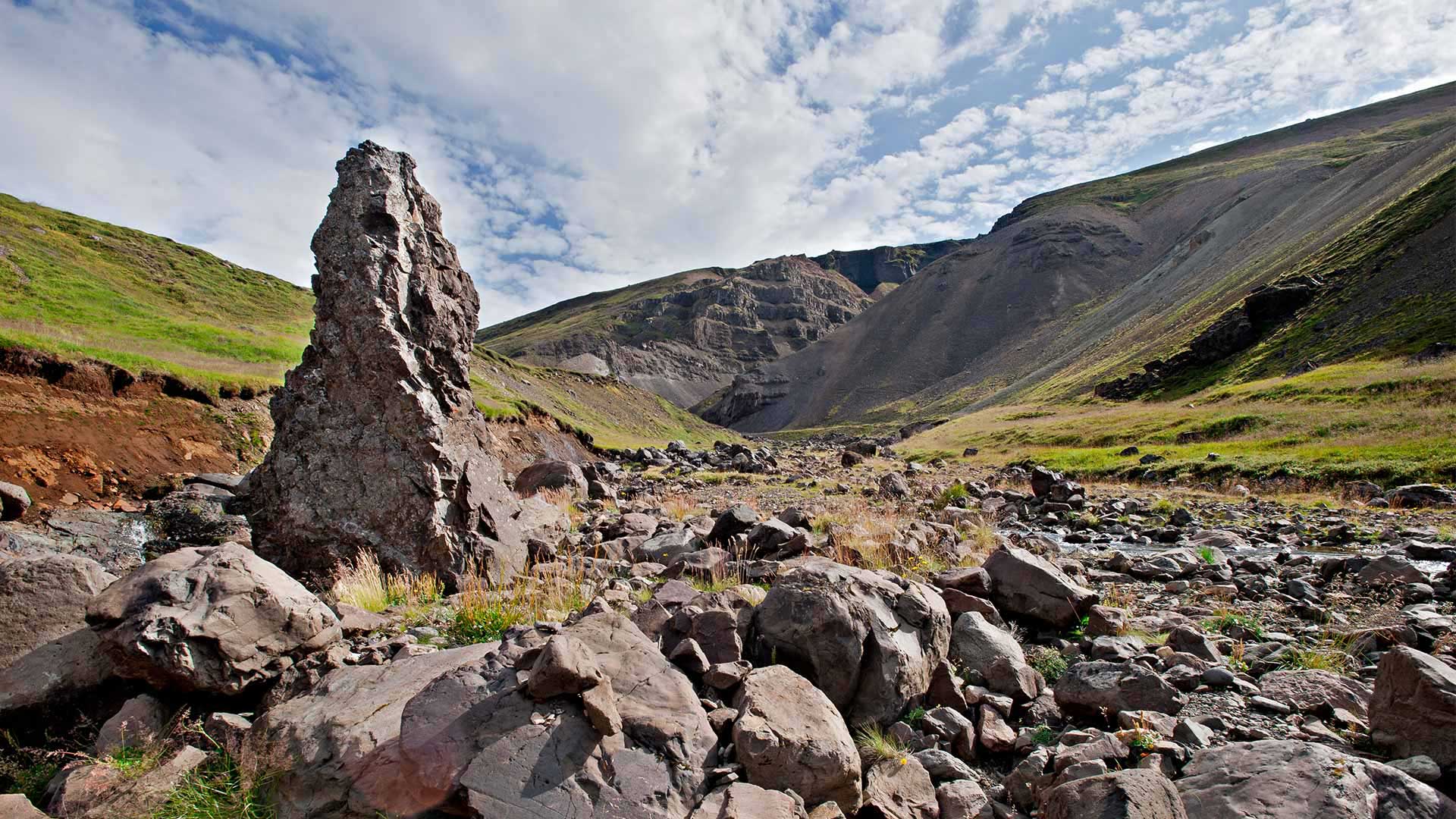 As shared, this hotel is made for adventure.  Just outside of your doors are wonderful hiking trails made easy to navigate with easy-to-follow maps and advice from the switched-on staff. One of the hikes takes you to Husafell where you'll see Guðmundsson workshop and an odd site. This little town is the historical home of the Husafell Stone, a test of strength still used in strong-man competitions where competitors attempt to lift the odd-shaped 418lb stone and carry it as far as they can. Further beyond you'll get to the foot of a mountain range where the hike takes you past stunning views, into the canyon, with patches of snow, icy streams of glacial meltwater, and literally breathtaking views. There are miles and miles of trails to explore offering a diversity of landscapes from dense birch forests, lava fields, and glaciers.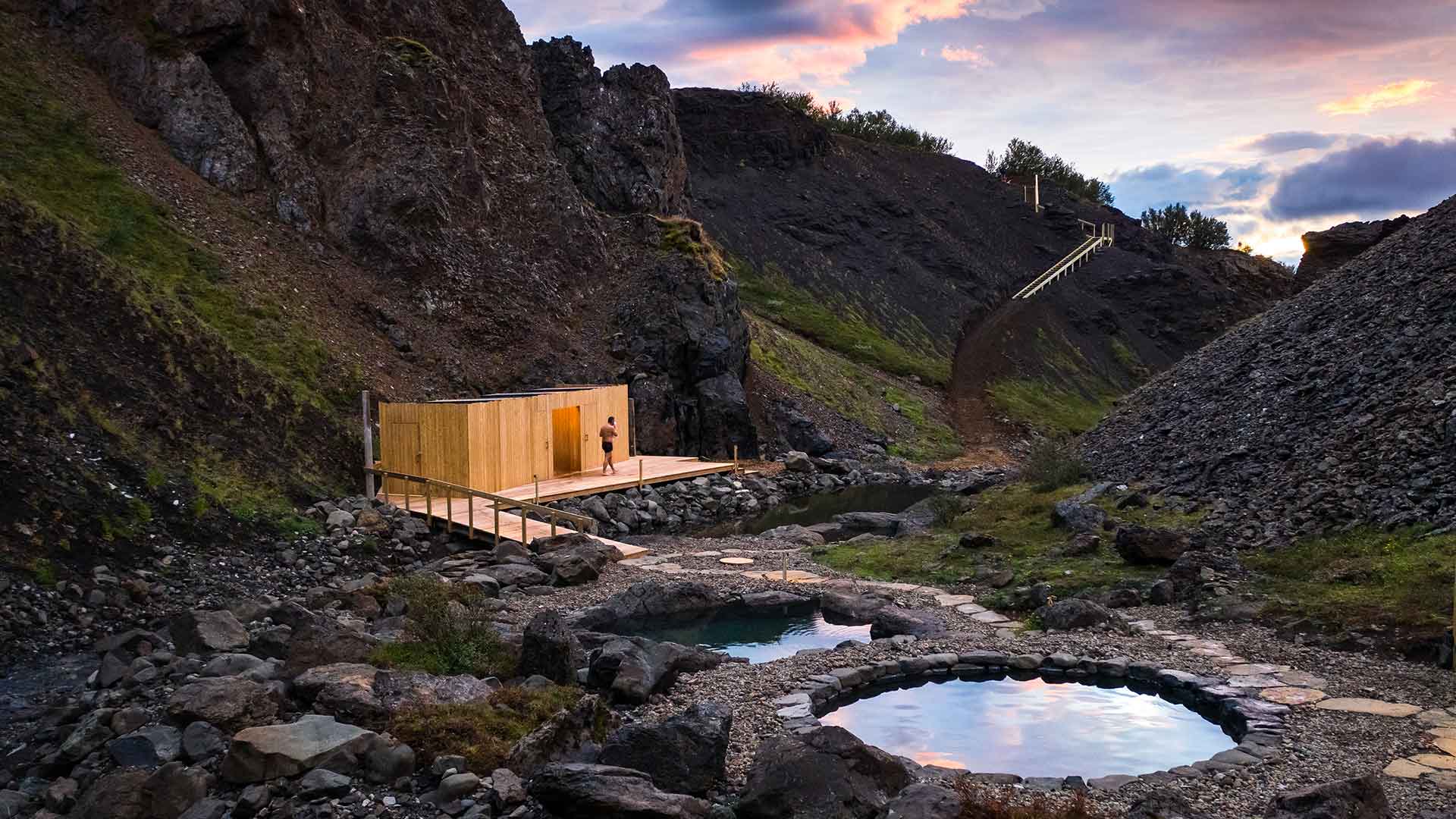 One experience that cannot be missed when visiting West Iceland is a soak in the Húsafell Canyon Baths. As the name suggests, the baths are hidden away in the canyon and much more exclusive than many of the other hot springs in Iceland. Access is limited to about 20 guests and scheduled by reservation with mandatory tours and guides so it is very well-controlled and never crowded.  The isolated pools are accessed by a short hike through the more dramatic scenery of waterfalls, mountains, and canyons and down a long staircase.  The facilities and pools were made by locals from reclaimed and sustainable materials and designed to not detract from the beautiful nature that surrounds.
After a change into bathing suits in the wooden changing huts, it is off to the pools. Two small hot-spring-fed pools vary in temperature from 86-105°F. There you'll have a chance to soak in the wake and therapeutic geothermal heated waters while taking in the splendor of the Icelandic highlands. It is at that point you realize; this is why you came to Iceland.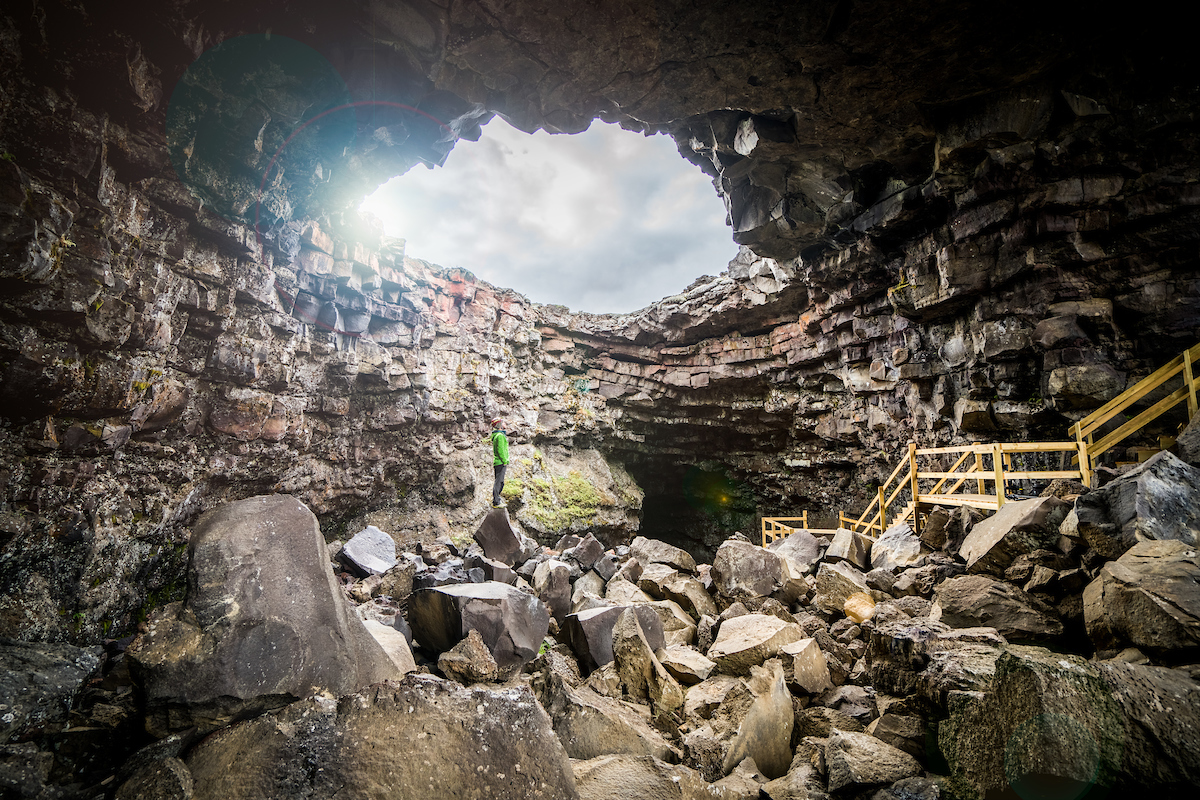 Another must-do experience in Western Iceland is a visit to the Víðgelmir. This adventure takes you, on a two-hour exploration of one of the largest lava caves in the world, over 5,000 feet long. The tour is led by guides who are actually highly educated geologists so you are not just seeing the caves, you are learning how they formed, when, and even the details of lava ropes. It's completely fascinating beyond what you are seeing to understand the scientific formation of the tunnels that date back to an eruption circa 900 AD.
After suiting up in your lighted helmet, it is off for a short walk to the cave entrance and the start of the tour.  Visitors descend a staircase into a well-laid-out series of lighted steps, platforms, and trails into an easy-to-navigate walkway. The visitors see and learn about the amazing formations and colors of the cave's stalagmites, stalactites, and incredibly intricate lava formations.  The fascinating tour allows guests to see firsthand the subterranean lava tube, one of Iceland's most brilliant natural phenomena.    
For the nature lover and adventure seeker, Iceland is an amazing destination to explore with dramatic landscapes,  countless waterfalls, glaciers, and canyons. Hotel Husafell makes the ideal base to see all that this incredible destination has to offer.