Entertainment.com digital memberships offer savings on dining, attractions, shopping, services and more. The company has been in operation for decades. Originally, memberships came in the form of a thick coupon book, but those paperback books have been replaced by digital coupons with access online or via an app for smart phones. (Note: if you prefer to use physical coupons, there is a print coupon option, but printed coupons have a fourteen-day expiration date.)
Entertainment memberships are offered on a monthly basis or annual basis. Monthly memberships are $2.99 per month. Yearly memberships cost $24.99.
We have purchased Entertainment.com books or digital memberships over the years when we travel to Oahu. They have helped us save money, particularly on attractions and activities.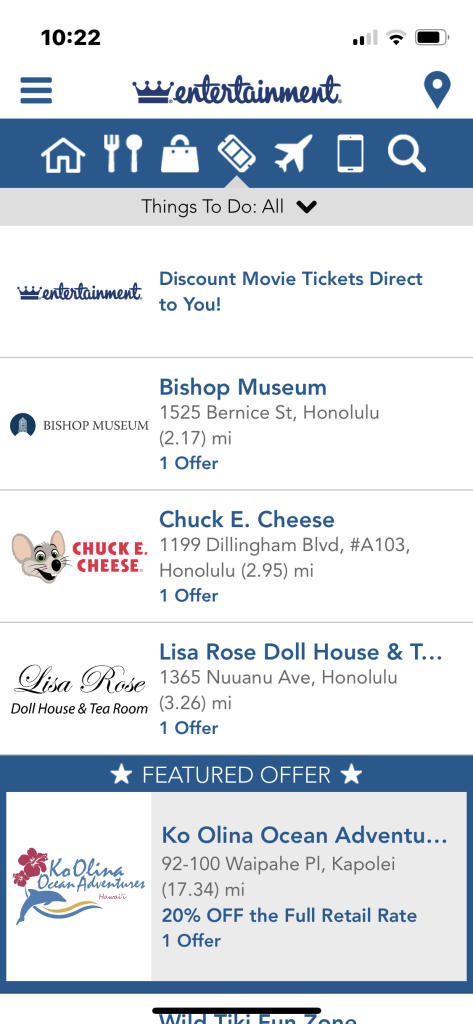 As we reviewed the available Entertainment.com discounts for 2023, here are a sampling of the ones that caught our eye with a link to the host businesses.
Dining
Aloha Table Waikiki in Waikiki – 10% off the bill
Il Lupino Trattoria & Wine Bar in Waikiki – 25% off the bill for a maximum discount of $25
Rock Island Cafe in Waikiki – 20% off the bill
Teddy's Big Burgers in Waikiki at Kapahulu location – $5 off a purchase of $20 or more
Aloha General Store in Haleiwa (north Oahu)- buy one shave ice and get the second shave ice for free. We've used this coupon before and it was a winner. (Read more about Haleiwa shave ice here.)
Activities
Paradise Cove Luau in Kapiolei/KoOlina (west Oahu) – 25% off regular admission up to four adults. (We have used this coupon for Paradise Cove.)
Dole Plantation in central Oahu – Free adult maze admission with purchase of same
Skydive Hawaii in Waialua (north Oahu) – 25% off tandem jump
Tradewind Charters in Honolulu – 25% to 50% off private boat charters
Pearl Harbor Aviation Museum in Honolulu – Free admission with purchase of one admission for maximum discount of $25. We have used this coupon when we visited Pearl Harbor Aviation Museum.
Bishop Museum in Honolulu – 20% off general adult or youth admission
Ko Olina Ocean Adventures in Kapiolei/KoOlina (west Oahu) – 20% off the full retail rate for maximum discount of $58
Ko' Olina Cat in Kapiolei/KoOlina (west Oahu) – $30 off a dolphin snorkel sail
Additionally, we noticed coupons for stand-up paddle and/or surf lessons, sport fishing tours, parasail tours, scuba diving tours, moped rentals, kayak rentals and snorkel equipment rentals for Oahu.
From the lists above, one of the best coupons is the 25%-off coupon for Paradise Cove Luau, which saves $35 per person. That coupon alone makes the purchase of the digital membership more that worth the cost.
—
While we did see some coupons for Maui and Kauai, we did not see enough coupons to justify purchasing the Entertainment membership specifically for those islands.
Have you used the Entertainment.com membership coupons on your travels? Did it help you save money?