For those of us looking to escape from the daily grind, Catalina is a jewel of an island that offers a truly unique experience. Whether you're based in SoCal and planning a staycation that breaks the mold, or visiting from further out of town and want to enjoy a California experience beyond the ordinary, you won't go wrong booking a Catalina Island adventure.
It's a widely known fact that Catalina Island is utterly gorgeous all year round, with our comfortably balmy climate and stunning Baja-Mediterranean island landscapes. And with so many activities for you to enjoy every single season, it's really no wonder visitors to Catalina Island have an amazing time no matter when they visit us throughout the year.
But ask a Catalina Island insider when the best time to visit is, and those of us who are in-the-know will probably disclose this little secret: While we love visiting Catalina in every season, the best time to take that short and easy boat ride across the Pacific and spend time on the island, is during the fall.
Here's some of the reasons why the people who LOVE Catalina Island plan their visits for the fall months:
Fall is the Best Time to Visit Catalina Island and Experience Authentic Local Flavor
There's really no better time to soak up the island's unique charm than in the months after our summer peak. Our world-famous Catalina Wine Mixer and other events draw huge crowds and deliver a thrilling vibe over the summer, but for anyone who wants to feel like they have a whole slice of island just for themselves, there's nothing like fall.
With fewer visitors, the island feels less crowded, and there's more time to chat with the locals and learn more about what makes Catalina so special. You'll be able to really soak in the slower pace of island living, and unwind with us. Catalina Island also has such a rich history to share with our visitors, spanning over 7000 years of human habitation. You'll be enthralled by stories of smuggler, gold diggers, hunters and pirates. And despite being just an hour away by high speed ferry, we have a local culture that's distinct from the Southern California mainland. The real hidden gems of Catalina are here, just waiting for you to discover it.
Fall is Catalina Island's Secret Summer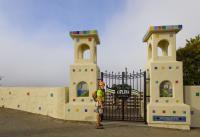 Top tip: Almost anything you want to do in the summer is still available in the fall on Catalina Island. Another huge plus? Early mornings tend to be even clearer in the spring and fall months, making these times of the year perfect for anyone who wants to pack their itinerary and make the most of their Catalina Island adventure. Visitors also describe fall on the island as serene and laid back, giving you ample opportunity to plan experiences that suit your pace.
Catalina Museum for Art & History is the perfect stop during your fall getaway. The Museum's new Tall Tiki Tales exhibition explores Catalina Island's contribution in the popularization of tiki culture and the role that the Two Harbors and Avalon played in the development of this aspect of American culture. The exhibition is open through September 3, 2023.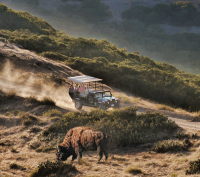 Most people don't realize that Catalina Island is the perfect destination for a creative retreat, an Adult "Summer Camp" or a Work From "Home" escape, with its perfect blend of wilderness and small-town living. Despite just being 22 miles long and 8 miles across at its widest, you'll be surprised at how much room there is to pick your own adventure. Want to try something new and thrilling? Try our high flying Zip Line Eco Tour, or take a biofuel Hummer tour to get up close with the bison that inhabit the island. There's no shortage of new and exciting things to do that you'll remember in the years to come.
Every Fall in Catalina Island, an Active Relaxation is on the Menu
Catalina Island is made for exploration. In between the two towns are over 165 miles of designated hiking trails that criss-cross our rugged oasis in the Pacific, including the popular Trans-Catalina Trail. Get your hiking boots on and find a trail that suits you, from beginner to advanced treks that all boast breathtaking views. There are also multiple great snorkeling points for those who want to explore the abundance of marine life around the island and its crystal-clear waters.
After a busy day of adventure, you'll be able to relax and rejuvenate in paradise at Island Spa Catalina, a destination spa that blends over 15,000 square feet of luxurious amenities with world-class pampering treatments. Unwind in the eucalyptus steam room before enjoying a customized massage, or our Sea of Life facial that combines marine extracts and island botanicals for results you'll love. *Open seasonally February thru October each year.'
Steer clear of the apple picking cliches of the season and plan a truly memorable fall getaway by booking a trip to Catalina Island instead. And with unbeatable rates on midweek boat and hotel packages from now until March 17, 2023, Catalina Island Company wants to share the magic of fall on Catalina with you.
Savor Catalina's Island's unspoiled paradise with a package that includes:
Round-trip boat transportation on Catalina Express from Long Beach, San Pedro or Dana Point
Overnight accommodations at select Catalina Island Company properties:

Newly-renovated Hotel Atwater in the heart of Avalon
Forbes 4-star rated Mt Ada, the former Wrigley Mansion
Hotel Atwater rates start at $139 per person per night, based on double occupancy.
Mt Ada rates start at $303 per person per night, based on double occupancy.
Catalina Island is calling. Call 877.778.8322 to book the "Best of Winter" package or book online.