Jill Weinlein
The beachfront Outrigger Reef Waikiki Beach Resort recently completed an $80 million refresh and transformation. This popular contemporary ocean-view retreat is rooted in displaying a renaissance of the Hawaiian culture. Guests will notice that the focus is on art, wellness and Aloha-style hospitality.
A beautiful mosaic tile pool, plus three jetted hot whirlpools, are near the fully reimagined Kani Ka Pila Grille. Nearby is the stage for live Hawaiian music and dance.
Other cultural activities include learning about the rich culture of lei making and hula lessons. Carve your own tiki idol to bring home or take a complimentary ukulele lesson.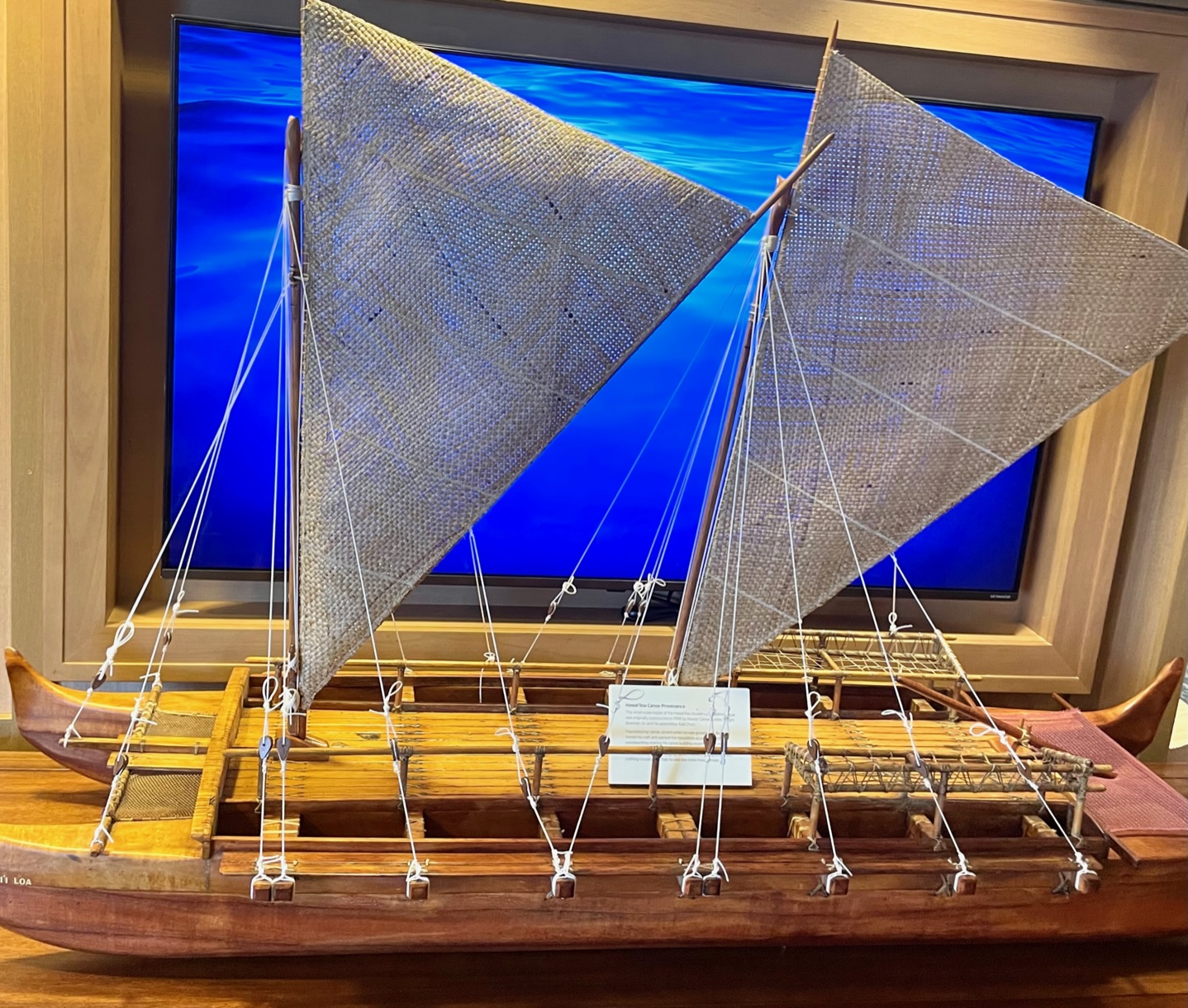 Jill Weinlein
Throughout the resort there is artwork and replicas of the famous wa'a (sailing canoe) on display. It is also featured in paintings by Herb Kawainui Kane. In the 1970s, Kane led the renaissance of Hawaiian culture as a celebrated artist-historian and author with a special interest in the seafaring traditions of the ancestral peoples of Hawaii. His wa'a paintings demonstrate how vital this vessel was to Hawaiian's sustenance and survival. Not only did it provide the means for people to fish, but also to travel between islands.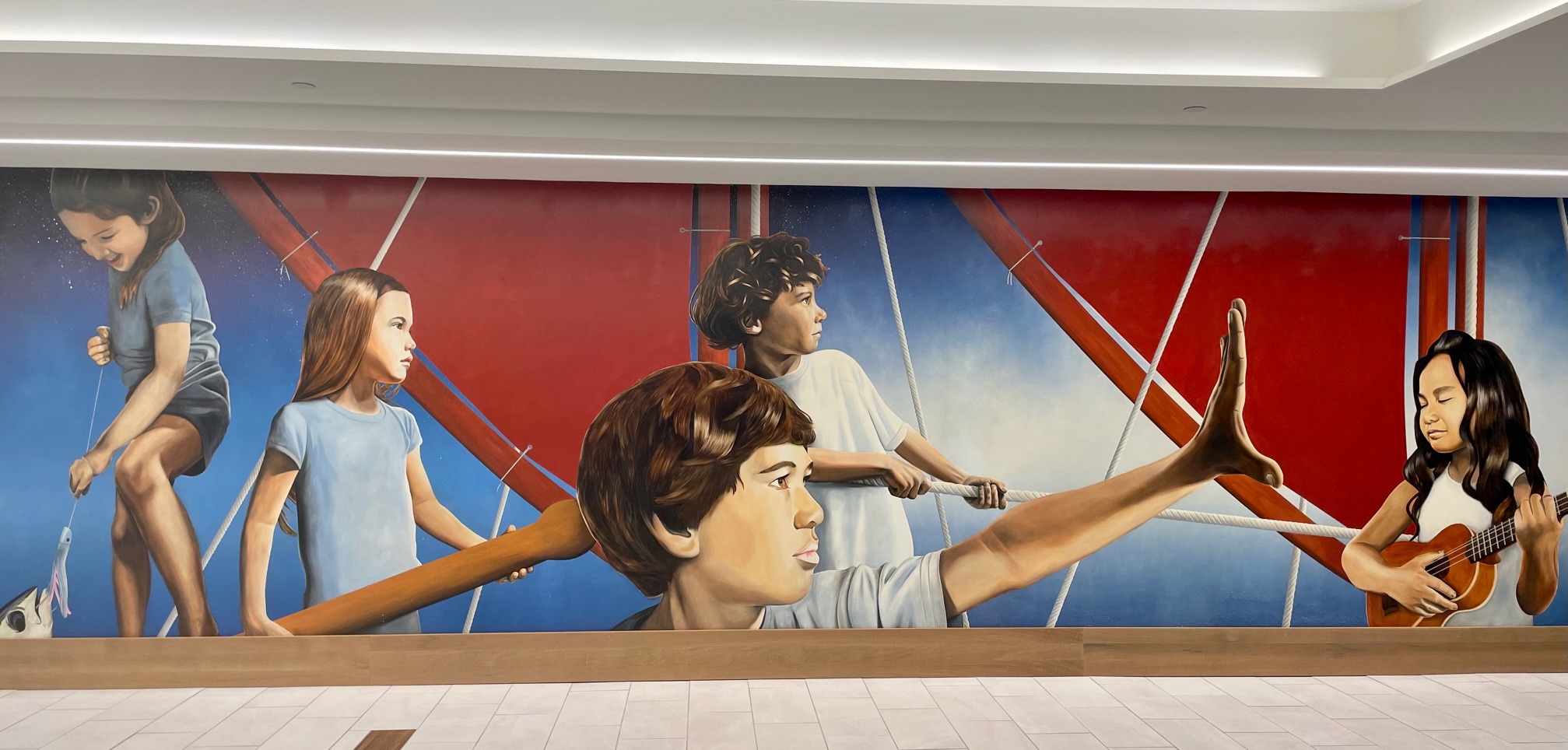 Jill Weinlein
Another popular Hawaiian artist Kamea Hadar has a large and colorful mural featured along the hotel's interior beach walk out to Waikiki Beach. He is the Co-Lead Director of POW! WOW! Worldwide, and his large scale murals and installations can be found in cities around the world.
When he received a commission to paint this mural, Hadar created 'I Ka Wa Ma Mua, Ka Wa, Ma Hope' which translates to 'Through the Past is the Future,' depicting a voyaging wa'a being crewed by children (keiki).
The girl pulling up a fish off the back of the wa'a is Hana Kakinami. She is the great granddaughter of John Dominis Holt IV, a native Hawaiian writer, poet and cultural historian. In the center is La'iku Brown, the grandson of Bruce Blankenfeld, Pwo Navigator of the Hokule'a and the Polynesian Voyaging Society. Behind is Steel Scott, working the ropes in order to manage the sails of the wood wa'a. Scott is from the famous slipper manufacturing family, Scott Hawaii, and also the Downing family, a famed surfing family.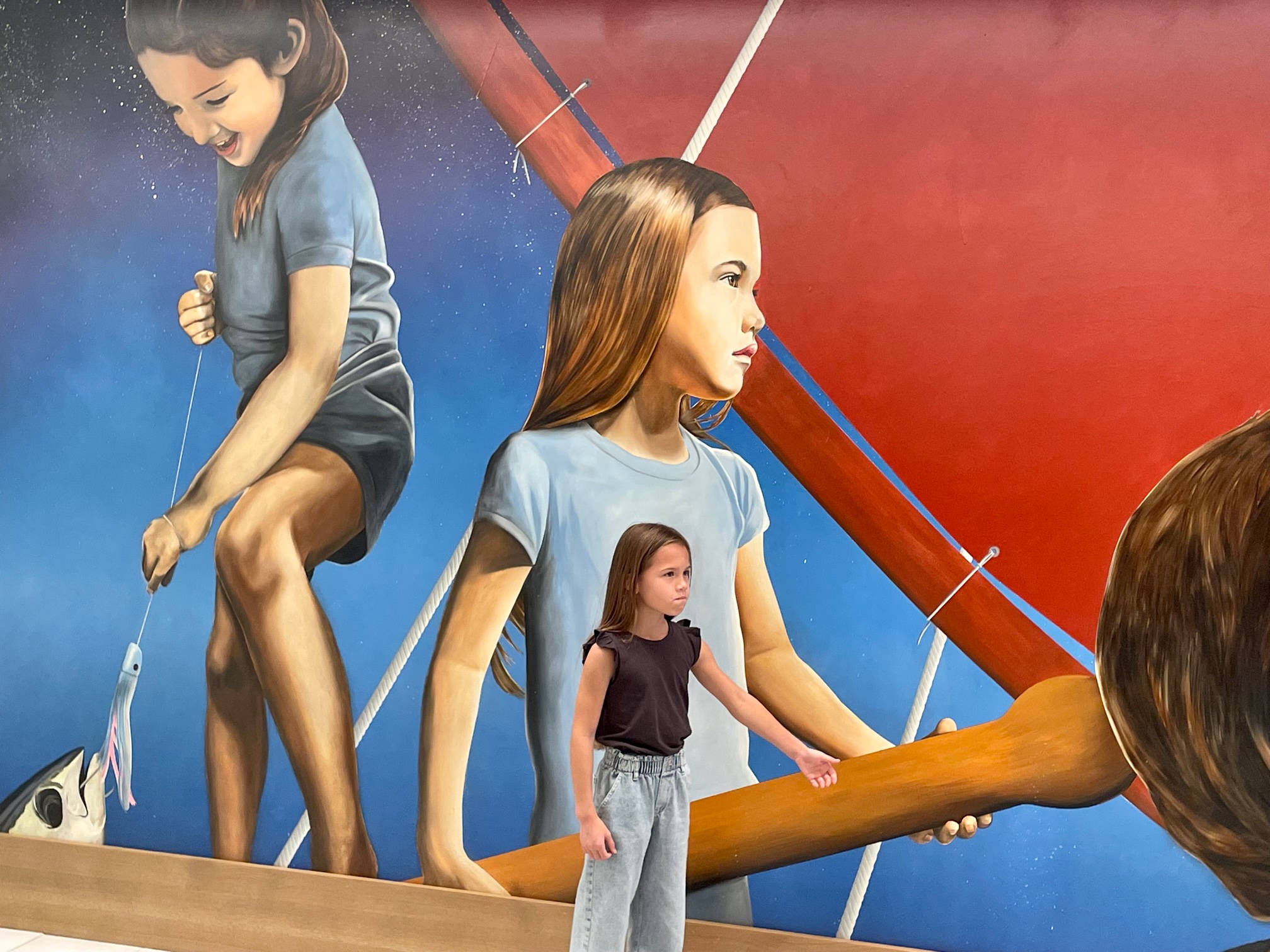 Jill Weinlein
Hadar's own daughter Nova is featured holding the steering sweep (hoe uli) that acts as a rudder for the canoe. 'We as parents and elders don't yet know where our keiki will arrive or even the nature of the canoe they will be sailing,' said Hadar, 'But we do know that, like in the wa'a, the next generation are all in this voyage together. We hope that with the lives that have been lived, both in generations past, as well as our current lives as parents, our keiki will have the tools to carry on our legacies and be positive stewards of our future earth.'
At the bow is Kawena Kamakawiwo'ole the grand niece of Israel Kamakawiwo'ole, also known as 'IZ', the legendary musician and famed singer who creatively put a Hawaiian spin to the iconic song, 'Somewhere Over The Rainbow'.
This location of this mural is also along the wall next to the popular Monkeypod Kitchen by Merriman. Set to open its fourth Hawaii restaurant the first quarter of 2023, owner Handcrafted Restaurants said this will be the first Monkeypod's food and drink location in Waikiki.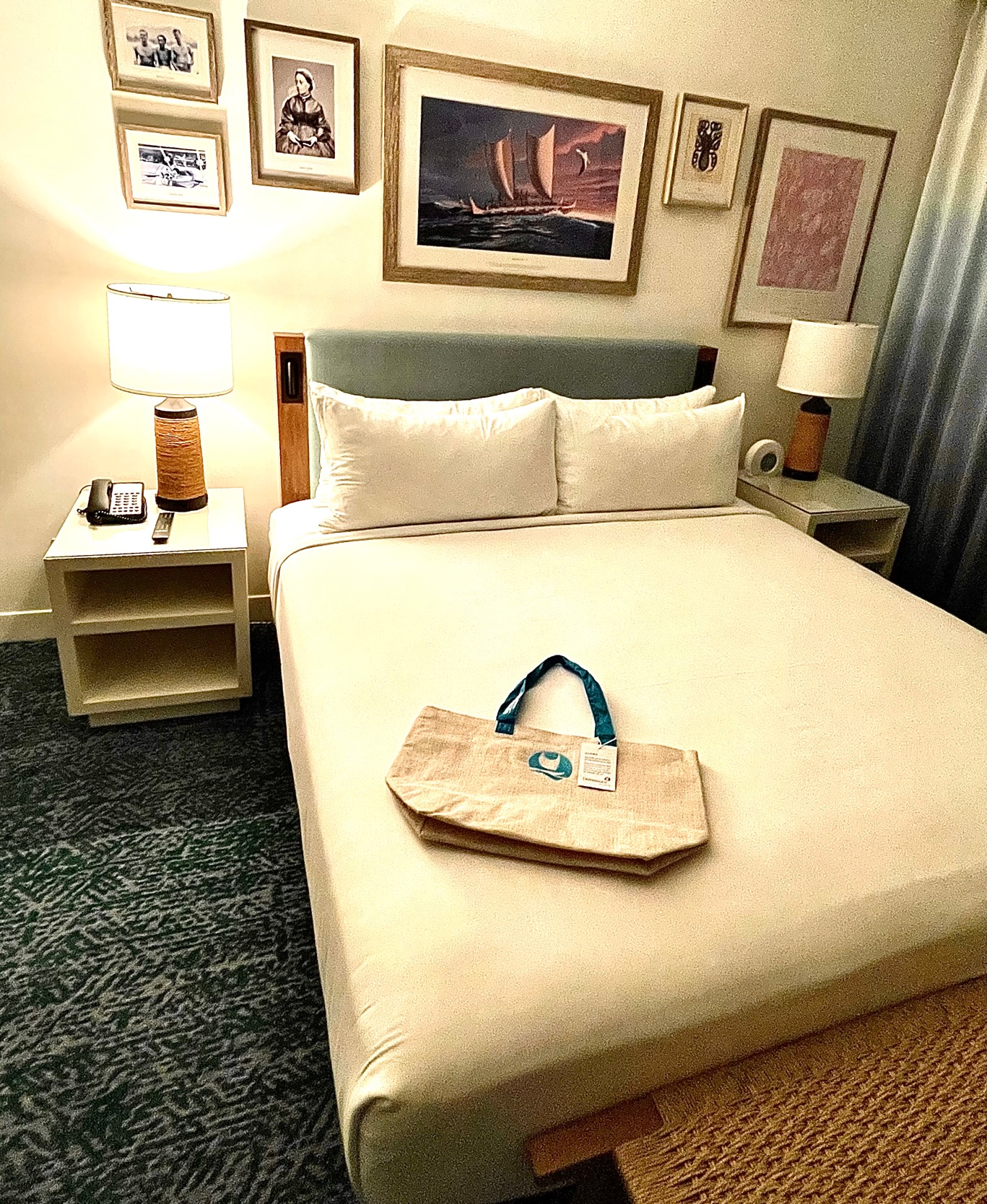 Jill Weinlein
The newly designed residential-style rooms blend authentic Hawaiian culture with contemporary beachfront luxury. There are 658 artfully appointed rooms and suites offering aloha spirit. Some offer Waikiki beachfront and ocean views. There are three different types of sleeping arrangements, including one king bed, two queen beds, and three double beds. Most standard rooms offer a private balcony to soak up the Waikiki sunshine and vibe.
Renovated suites include ka lani (sky) and moana (ocean) views with full access to the Voyager 47 Club Lounge for complimentary food and beverages throughout the day.
Some suites have a separate king bedroom, spacious living area with a sofa bed, and a private lanai with panoramic oceanfront views of the Pacific. Connecting rooms are available to make a three-bedroom suite.
The Navigator Suite offers a spacious 1,500 square feet of residential-style living, with two-bedroom and two bathrooms. Deluxe ocean views make this penthouse with a wet bar, dining table that seats six people, and an expansive roof top terrace ideal for families and for entertaining.
The brand new Coral Reef Penthouse features sweeping views of the ocean and Diamond Head State Monument. The 2,000-square-foot private lanai features plush lounge chairs, a dining table and day beds. This penthouse accommodates six people and includes access to its second story via a private elevator.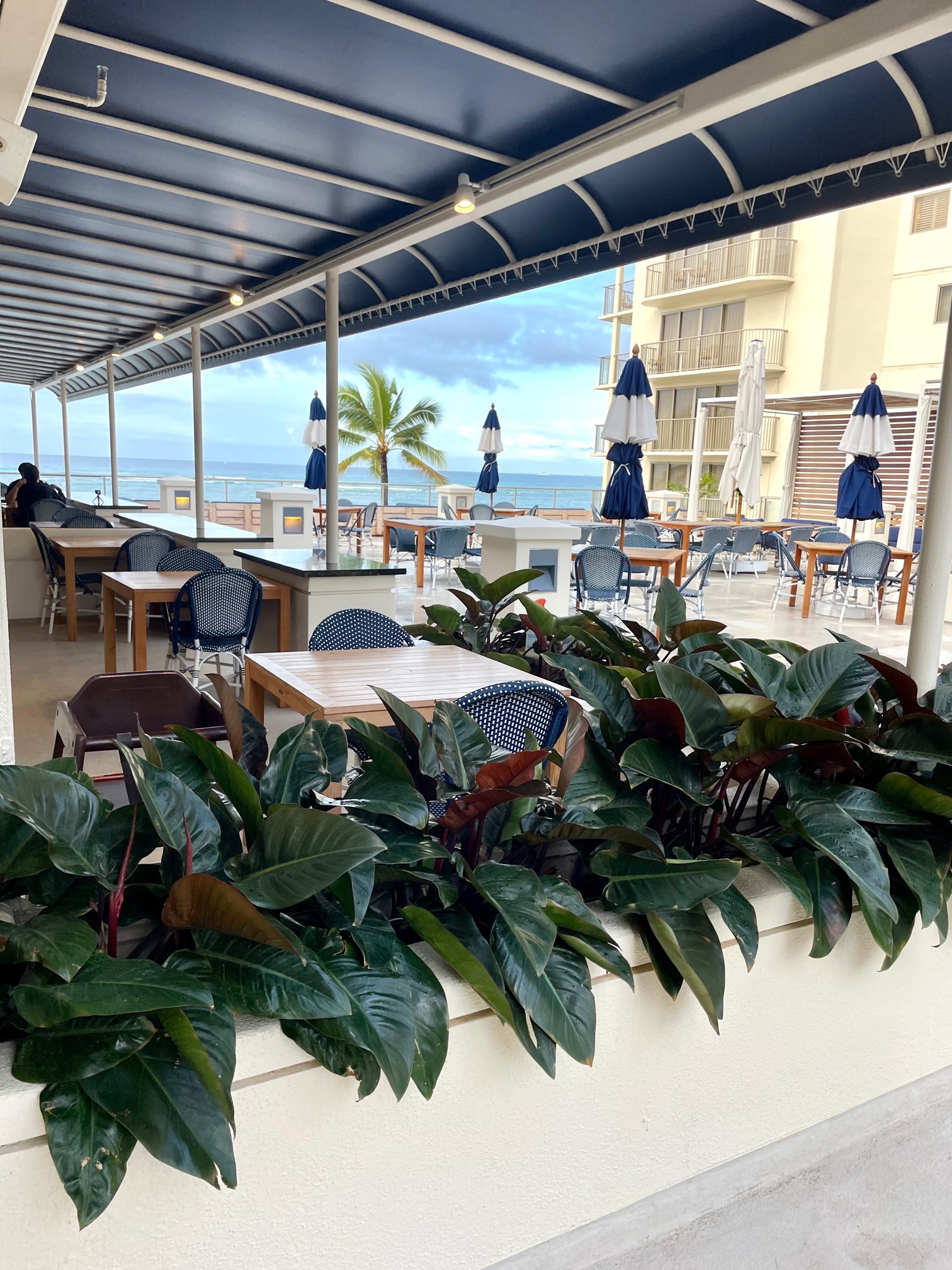 Jill Weinlein
Entry to the resort's Voyager 47 Club Lounge is via an exclusive Outrigger wristband. Guests entering will be welcomed by a hospitality manager and guided to a complimentary hot and cold breakfast. Tables are located inside as well as outside on the rooftop terrace and ocean front balcony.
Later at sunset, guests are welcome back for Aloha Hour with Hawaiian theme cocktails, red and white wines, craft beer and array of hot and cold pupu appetizers and small plates.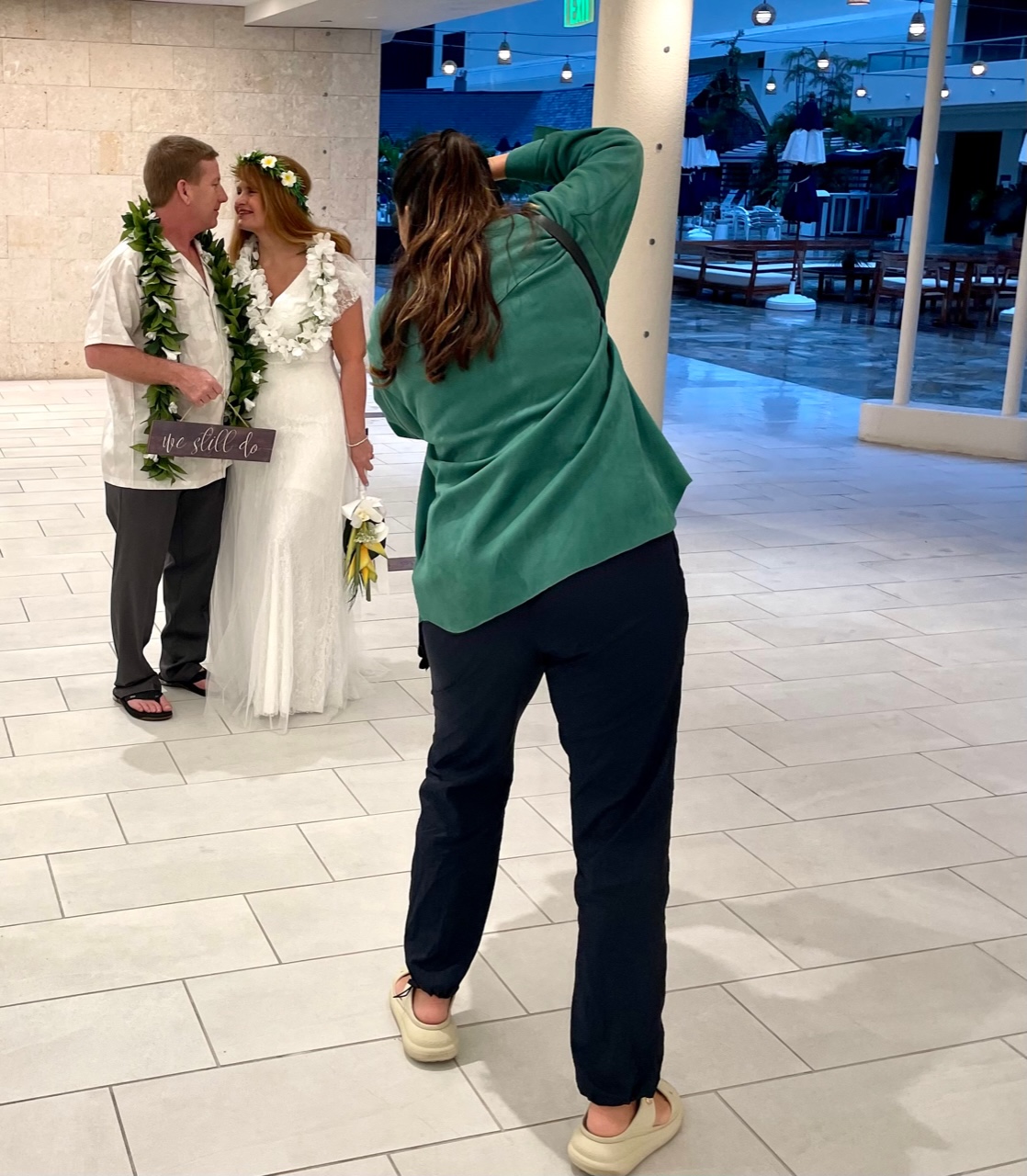 Jill Weinlein
Renew your vows with a Hawaiian ceremony on the sands of Waikiki Beach. A traditional Hawaiian vow renewal ceremony is available for guests staying at the Outrigger Reef. This complimentary weekly ceremony is performed in the spirit of ancient Hawaiian and Polynesian traditions on the beach every Tuesday and Friday at sunrise, around 7:45 a.m.
Achieve the Aloha Spirit by staying at the Outrigger Reef Waikiki Beach resort while visiting the island of Oahu.